Corner cottage flats complete in Dailly
Send to friend
* Required fields
|
Send to friend
June 6 2018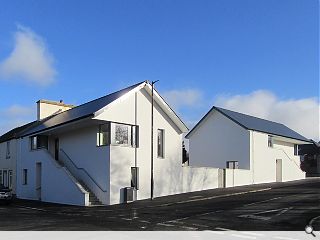 Built by 3B Construction the social housing occupies a prominent junction on the edge of the historic core of the former mining village, repairing the damage caused by the demolition of the King's Arms Hotel which was left as a burnt-out shell following a major fire.
In a statement the practice wrote: "The design reforms this prominent corner in a manner which gives an element of public scale to the frontage. The accommodation provided was in the form of cottage flats. This allowed a design where the stair access to the upper floor became a key feature of the building.
Starting with the basic village form of a two-storey rendered block with slate pitched roof ARPL then manipulated the blocks to create the open sheltered stairs and a range of carefully placed windows. These allowed sunlight in and views out to the River Girvan, while maintaining an element of privacy where required."
Built to high insulation standards, owing to the lack of mains gas, the homes boast a high thermal mass as well as heat recovery ventilation, solar thermal panels and responsive energy control systems.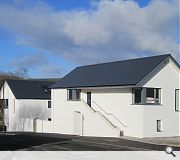 Recessed stairs offer a degree of shelter for upper level residents
The King's Arms Hotel was demolished in 2012
Back to June 2018