Dramatic remodel approved for unloved 1970's Perthshire bungalow
Send to friend
* Required fields
|
Send to friend
May 30 2018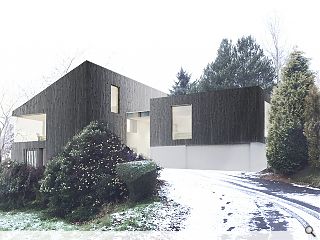 A 1970's bungalow in Kinneswood, Perth & Kinross, is to be brought into the 21st century courtesy of a dramatic renovation and extension at the hands of LBA architects.
Boasting a secluded situation enveloped by mature trees and enviable views Suilven sits close to the historic village of Kinneswood with enviable views across Loch Leven.
Faced with a steeply sloping site at the foot of Bishop Hill LBA have sought to better connect the home and the 1.5 acres of land on which it sits with the wider landscape, addressing a lack of floorspace by adding an extra level of accommodation without needing to extend its footprint.
This will allow a modern open plan living space to be created, with the ground floor in turn converted to bedrooms and ancillary accommodation. The resulting property will be split between two separate wings connected by glazed link which also doubles as an entrance porch and circulation core.
Roofs have been angled in line with the slope of the hillside, making use of blackened vertical timber and harled concrete render which wraps both the existing shell and new build extension.
LBA director Gareth Jones, said: "In many cases when presented with the opportunity to extend a dwelling we are faced with the quandary of how you best respond to and connect with the existing building. In this case, we felt the correct approach was to absorb the existing building fabric into any new proposals and present the existing and extensions as an entirely new house."
Impressed by this approach Perthshire planners gave their full backing to the one of a kind family home, clearing the way for a radical reimagining of the unprepossessing and unloved existing property.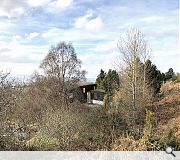 The bungalow will be unrecogniseable once LBA are finished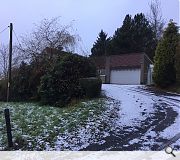 The revitalised home will offer double the floorspace without extending beyond its existing boundaries
Back to May 2018