TESCO bank on Kelvin Bank
Send to friend
* Required fields
|
Send to friend
July 18 2008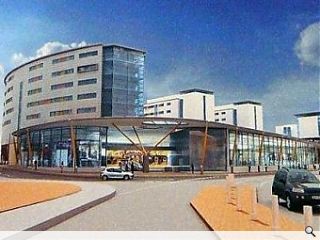 TESCO Stores Ltd and Ian Burke Associates have won their battle for a new supermarket and hundreds of homes at Kelvin Bank, a site in Partick at the foot of Byres Road.
Glasgow's first retail village will incorporate underground parking below the City's largest Tesco, homes and student flats above will maximise the stores airspace. The student blocks will be built after the retail phase and will be constructed of coloured render panels, zinc roofing, glazed stairwells and metal lift panels. The store will consist of a concrete baseline with louvres and a feature curved glazed screen capped with timber columns.
Kelvin Bank hasn't met with universal praise, with objections falling into three categories, an understandable doubt relating to increased traffic load on existing infrastructure, superfluous questioning of the need for a new superstore and the common aversion to high density development
Despite these objections the scheme shows some merit. The development will open up access to the river Kelvin with new walkways and landscaped public space and is of appropriate overall density. Unfortunately the student housing looks drab and typically low spec (coloured render panels), the "tower" is too diminutive and under designed to contribute anything more than bulk. Tesco's expression of corporate identity in white render is perhaps the clearest evocation of the stack em high, sell em cheap culture.
Back to July 2008