Borders Sculpture Park readies for inflatable inaugural installations
July 4 2017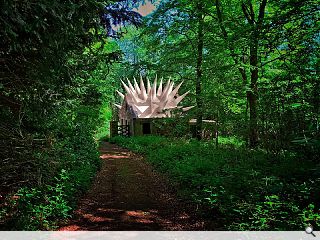 Borders Sculpture Park at Mellerstain House, Kelso, is gearing up for its inaugural exhibition - three large-scale inflatable pieces which will bring the 18th century grounds right up to the present day.
XXX by Steve Messam is an outdoor installation juxtaposing the classical setting of the William and Robert Adam designed house with a trio of inflatable fabric additions to accentuate the existing architecture and Sir Reginald Blomfeld designed gardens.
The biggest of these, Scattered, sees a cluster of weather balloons set afloat on an ornamental lake, offering a beautiful or ominous (for fans of The Prisoner) centerpiece. It is joined by Pointed and Towered which consume several forgotten ruins.
Each piece adopts a stark white hue in an echo of the marble statues which were originally intended to decorate the grounds.
Messam said: "As interventions, the sculptures speak the language of scale - all three are bigger than a house. As studies in scale and form, these artworks have to be directly experienced in the environment to be fully appreciated, so I hope they will encourage even more people to visit this wonderful architectural gem in the Scottish Borders."
The exhibition will run from 14 July through to 11 September as part of Architecture Fringe and is curated by Sarah Coulson of Yorkshire Sculpture Park.

All images by Steve Messam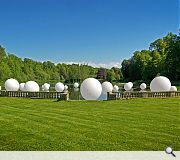 A cluster of opaque bubbles, up to 4m in diameter, puncture the landscape in Scattered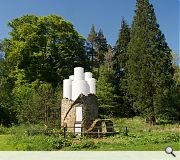 A tuft of projecting peaks erupt from this former gatehouse in Towered
Back to July 2017