The future is set in McCarthy & Stone via new 'cognitive home' report
March 1 2017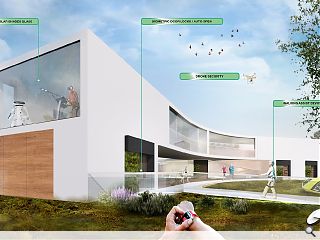 Retirement home provider
McCarthy & Stone
has cast one eye to the future as it marks 40 years in business by outlining how an intelligent home might look for tomorrow's retirees.
Gone are floral sofas, tea caddies and carers and in come 'active chairs', 'kitchen robotic arms' and 'care o bots' within an intelligent 'cognitive home'.
The vision is contained within the providers Home Start Home report, authored by the Agile Ageing Alliance, which seeks to illustrate what the next 40 years of technological advancement will mean for older people.
McCarthy & Stone's chief information officer Tracey McDermott, commented: "Helping older people to move at the right time and in the right way could enable them to live independently for longer and improve their quality of life, at the same time as freeing up homes for other buyers and reducing costs to the social care and health systems."
It is predicted that 32m people will be aged 60 and over by 2039 while in Scotland alone there will be 1.47m people aged 65 and above by 2037, necessitating greater reliance on automation and technology.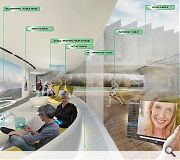 Predicted technological advances include a fall detection floor, holographic touch table and projection screen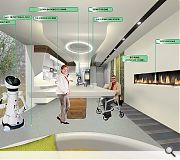 The humble zimmer frame will remain in use even in 2039
Back to March 2017