New homes to plug gap site in Glasgow's South Side
March 9 2016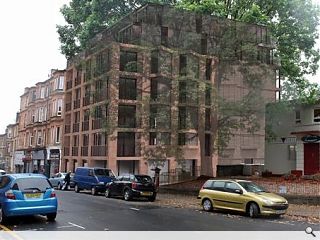 Adrian Higson Architecture has tabled plans drawn up by Bapu Properties for the
creation of 16 flats and a ground floor commercial unit on Sinclair Drive, Glasgow
.
Adopting a horizontal profile the L-plan block seeks to conform to the parapet, balustrade and retail frontage of an adjacent tenement for the front façade, with set-back zinc upper floors said to reference slate roofs.
In their design statement the architects observed: "The primary façade is formed from a red sandstone frame, corresponding to the building's structural grid, which is set proud of a secondary façade of variegated grey brick. Within this are set matt black framed windows and internal balconies lined with natural timber cladding and matt black railings.
"Away from Sinclair Drive the primary façade disappears and the secondary brick façade takes over with bands of vertical brick between storeys."
The northern elevation steps back 4m from the boundary to enable access with offset angled windows ensuring privacy for a neighbouring nursery.
Back to March 2016