Former listening centre plans given fresh hearing
May 15 2014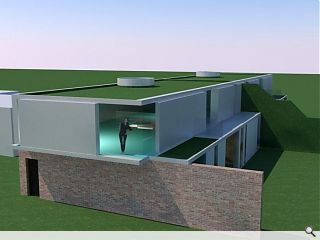 Plans to redevelop a former WWII listening station in Cupar, Fife, have been announced, outlining how the property could be renovated to form a family home and two separate holiday cottages.
Commissioned at the outbreak of war the centre remained operational throughout the cold war, the building played a crucial role in feeding information on German naval movements to the Enigma code breakers at Bletchley Park before being put to use eavesdropping on Russian civil transmissions.
Drawn up by Simpson & Brown architects the plans entail retention of the main building and garage to form the new home whilst clearing an adjoining administration building to make room for holiday cottages and a putting green.
Languishing on the Buildings at Risk Register since 2007 the intelligence base has been subject to a number of stalled planning applications seeking to bring the buildings back into use.
Property owners George and Clare Beaton hope to secure approval for their plan, currently subject to a public consultation, by October.
Photography by Mark Chalmers
Back to May 2014