The Kelpies take centre stage at NY's Tartan Week ahead of official opening
April 10 2014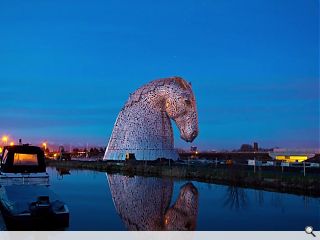 Sculptor Andy Scott's monumental vision for a pair of equine sculptures near Falkirk is to take centre stage at Tartan Week in New York ahead of their official opening on 21 April.
Timelapse photographer Walid Salhab painstakingly documented assembly of the 30m tall steel sculptures using, which now dominate the landscape having claimed the title of the world's tallest equine sculptures.
Walid commented: "What makes the film different from most time-lapses of new buildings is the significant movement of the camera within the construction site while the build was taking place. The building team also had to accommodate the camera movements within their assembly plans and we had a lot of health and safety issues to deal with on a daily basis. One tiny clip - for example - the adding of the horse's jaw - could take up to eight hours to film."
The entire 'hyperlapse' process necessitated 60 days of stop-motion filming conducted over a seven month period, generating over 120,000 individual photos – 12,000 of which have been fused together to create the seamless 7 minute long video.
The Kelpies from The Helix on Vimeo.
Back to April 2014