Edinburgh Castle rock fall wall plan submitted
Send to friend
* Required fields
|
Send to friend
September 13 2013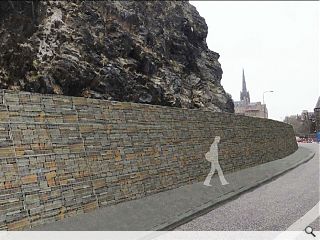 Plans to erect a 3m high stone filled gabion wall along Johnston Terrace, Edinburgh Castle have been
submitted by Historic Scotland
in a bid to contain the risk presented by falling rocks.
The £1m project has been necessitated by ongoing erosion which has caused rock fragments to detach from the 360m year old volcano, damaging cars parked on the street below.
To contain this risk both netting and regular inspection work is carried out but this has only served to mitigate the risk and carries its own expense in terms of labour and management..
Now, to solve the problem completely, Historic Scotland is proposing a physical barrier of Pitairlie sandstone gabions to guard against future damage.
In their design statement Historic Scotland said: "Previous interventions have been constrained by the limits of the site and the proximity of the road, but recent discussions with CEC established that they were not averse to off-setting a reduced road width on part of Johnston Terrace, against a significant reduction in risk of potential rockfall damage, and any consequent transport disruption.
"This gave greater scope for consideration of a combination of a physical barrier, and a rock containment zone in this area, occupying the north footpath, and a strip of the carriageway. Computer modelling was used to assist in determining the optimum position for such a rock containment barrier at road level at the base of the rock slope, and the temporary steel barrier, which has been in place since April 2013, is based on these calculations."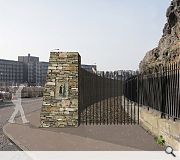 Gabions will be filled with Pitairlie sandstone, chosen for its close colour match with the volcanic outcrop
Back to September 2013