Former Carbuncle town named Scotland's most beautiful
Send to friend
* Required fields
|
Send to friend
September 11 2013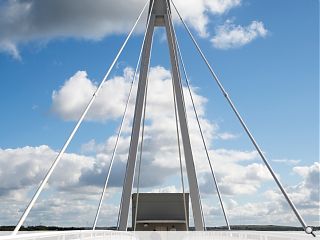 Perennial Carbuncle favourite Cumbernauld is the recipient of an altogether more welcome accolade after being named as the most 'beautiful' small city in Scotland.
The accolade was bestowed on the North Lanarkshire town by Beautiful Scotland in light of a number of innovative environmental projects currently taking place in the New Town; from a new community orchard, nature reserve and Hope Community Garden to Cumbernauld House Park, Cumbernauld Glen nature reserve and an eco-garden at Cumbernauld High School.
Society vice-chair Adam Smith, who picked up the trophy on behalf of residents, said: "Cumbernauld's Carbuncle Award unfairly branded the whole town as the worst in Scotland when Cumbernauld is really a great place to live and has so much to offer. Last year
Cumbernauld won a Civic Pride Award at the Scottish Design Awards
and Sony Pictures Television has recently chosen Cumbernauld to host their new, multi-million pound Television Studio and Production Base to support the filming of Outlander, a major television production expected to rival Game of Thrones.
"These are just two of Cumbernauld's many positive achievements which, in conjunction with this Beautiful Scotland award, will hopefully go some way to reversing the negative image which many people have of Cumbernauld".
Back to September 2013