Dundee, Stirling & Edinburgh publish National Performance Centre for Sport bids
|
Send to friend
August 9 2013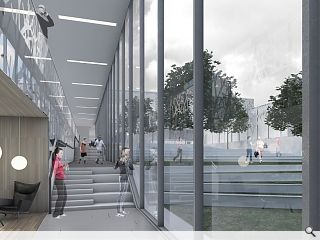 Three shortlisted designs for a
proposed £25m National Performance Centre for Sport
have been unveiled by Dundee, Stirling and Edinburgh.
Dundee's bid is being spearheaded by Keppie and Dundee City Council and would be situated in Camperdown Country Park and has been positioned to meet the needs of both elite sporting professionals and the wider public.
Commenting on their bid David Ross, design director at Keppie, said: "Camperdown is set in an uncommonly beautiful location; an expansive green parkland with a quiet and relaxed environment, but close to the city centre of Dundee. Our proposal sought to harness this natural beauty whilst recognising that by placing a building there, its character would inevitably change. The site and its approach are breath-taking, and it provided the stimulus for a design which works with the topography to create synergy between building and landscaped context.
"All parts of the building are visually connected. The central street runs adjacent to an open courtyard which separates the Elite Performance parts of the facility, but allows all parts to feel equally important. Observation is a key part of sport and sporting development and the design promotes a very high level of this, both internally and externally."
Meanwhile in Edinburgh it is Reiach & Hall who are assuming design honours, working in tandem with Heriot Watt University and City of Edinburgh Council to deliver a centre with a unique curving roof which arcs to trace the trajectory of Brazil's Roberto Carlos' goal against France in 1997.
Situated in parkland to the west of the city the centre features a Hampden replica pitch the city; it features a Hampden replica pitch; an outdoor synthetic pitch; four outdoor natural football and two rugby pitches; nine court sports hall; a 3G indoor football pitch and a fitness suite, and world class facilities for sports science and medicine all linked together by a sports promenade.
The facility would also be utilised by Scottish Rugby which has chosen Edinburgh as the preferred home for a training base.
In Stirling FaulknerBrowns are taking the helm in partnership with Stirling University to push for the centre to be located on the existing sports campus. It would feature an indoor sports centre as well as a Hampden-sized outdoor pitch; a nine court sports hall and a strength and conditioning area; complemented by sports science and physiotherapy support.
The Scottish Government will announce the winner in September with the winning facility set to be built by September.
Back to August 2013