Resource Efficient House takes shape at Ravenscraig
May 23 2013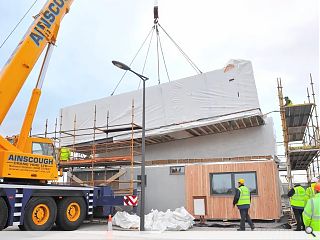 An innovative modular house design embodying the latest thinking in resource efficiency and the minimisation of waste through both construction and occupation is taking shape at the BRE Innovation Park, Ravenscraig.
Designed by Machin Associates on behalf of Zero Waste Scotland and Tigh Grian the £160k scheme is intended to promote delivery of sustainable and affordable family housing by showcasing its key features to visitors.
The contemporary three bedroom prototype is zero carbon thanks to the careful consideration of materials and a raft of green technologies, all of which are easily reproducible by developers.
Built to meet Scottish Building Standards Gold Performance Requirements it is hoped that the scheme will act as a new benchmark for the house building industry.
Performance of the new home will be monitored from an on-site
BRE Research Centre
.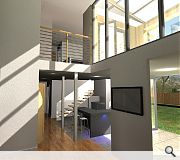 A time-lapse camera documented the construction process for posterity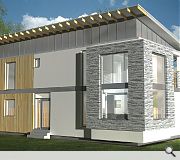 Eventually nine homes, each from a different developer, will take shape in the visitor park
Back to May 2013