Finnieston flats spell returning market confidence
March 8 2013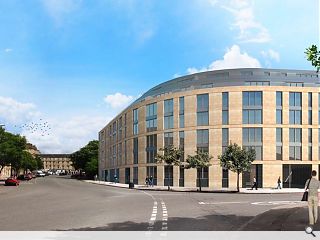 In a rare sign of confidence in the housing market construction work has commenced on a
55 home apartment scheme
at Minerva Street, Finnieston, as the SECC expansion continues to take shape.
Designed by Holmes Miller on behalf of Bellorr the £4.5m scheme is situated directly across from the A and B listed St Vincent Crescent which is directly referenced in the new build.
Primary facades will be clad in blonde sandstone extending to five storeys with alternating windows merged into two-storey heights to disguise low modern ceiling heights from the street.
A zinc parapet terrace extends above the roof edge providing terrace access for residents, set back from the main façade. Gables will be treated in buff brick with 'arrow-slot' windows located toward the street frontage in anticipation of the model being extended to adjacent plots in time.
Rear elevations will be treated in white painted concrete precast panels and look out upon a courtyard bounded by a retaining wall housing twin parking decks and storage space.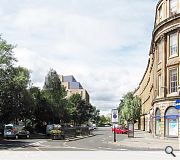 Finnieston's proximity to the west end and city centre has fuelled a spurt of infill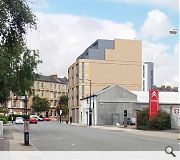 Gables have been modelled on the traditional Glasgow tenement
Back to March 2013