Wilson's Weekly Wrap
Don't you just hanker for the days of the silent scream?
July 15 2010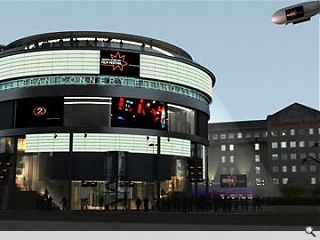 Summer must surely have arrived at last with the first appearance this year of that hardy perennial, viz. Richard Murphy's plan for a new Filmhouse building in Edinburgh's laughably named Festival Square. While the model of the project has been gathering dust for what seems like an aeon, the same cannot be said of Richard's ability to re-invent its p.r. story each year and this season's tale is no less fabulous than those that have gone before it.
This time the man from Fishmarket Close has chosen to lambast the city fathers for letting the BBC erect a gargantuan plasma screen in the Square in advance of the 2012 London Olympics. Long-time readers of the Wrap will appreciate that this in itself is an old, old story, and one that failed to elicit much interest from Scotland's most media-savvy architect at the time it was installed. Now, however, someone has had the temerity to park their scooter on Richard's lawn and has inevitably drawn the maestro's wrath. The guilty party is one Gavin Miller who is to head up 'the Centre for the Moving Image (no, not the one that's in London's Waterloo area – this is to be Scotland's very own version), described in the press as a 'virtual organisation', no less, until plans for a new complex come to fruition.
And here is the rub – the new complex – if it ever materialises – is mooted to be part of the Council's latest whizz-ho plan to establish a creative quartier in the city's Fountainbridge area, a place the Scotsman regularly reminds us is the birthplace of the country's most famous milkman, Shur Shon. All of which creates a dilemma for our Richard. Having plugged his plan for more years than any of us care to remember, he faces one of his project's most famous supporters being distracted by the idea that a new facility might be built onto the plaque that marks his birthplace and which is some five minutes walk from the architect's chosen site. Worse, long time Murphy collaborator, Murray Grigor, former director of the capital's film festival, co-scribed 007's memoirs and will presumably follow the man who would be king wherever he chooses to go. To be fair, Murray has described Festival Square as a "Ceaucescu-era plaza" and the screen as a "cheap Las Vegas imitation", but you have to wonder whether even he has now accepted that, with not a single soul coming forward in 20 years with the readies to build Richard's scheme, it's now time to move on.
Which brings me back to Scottish architecture's champion of the self-generated press stushie, for Richard is not one to let a golden opportunity to extol the merits of his own work pass by. Referring to the titanic TV, our hero frothed that "the screen has brought absolutely nothing to Festival Square. It's a shadow of the idea we had…as the new building would have had a number of big screens like this. The screen doesn't animate the area at all. It's hardly a surprise it hasn't worked. All it does is provide a sad reminder of what could have been if there had been enough vision in the city." And there in a nutshell is this year's story: not so much a lack of vision as the harsh reality of a tele-vision - and a 25 square metre one at that.
So, to conclude this lesson in how to make this non-news into a fish-wrapper story, the other harsh reality introduced in response to Richard's lament came from the city's festivals and events czar, councillor Steve Cardownie, who opined that "the ambition to create a centre that celebrates film and the moving image is a good one, but in the current harsh economic climate I expect this may take time to come to fruition." Which in Edinburgh-speak is "forget it." Nevertheless, I believe Paddy Power is already running a book on the various options Richard might come up with to resuscitate the story ahead of the 2011 Edinburgh Festival. One thing's a racing certainty though: like the groundhog in Punxsutawney, Pennsylvania, Murphy's Filmhouse project can be absolutely relied upon to make another annual-appearance.
Seeing the bigger picture
There are many who believe that a far better venue for a new Centre for the Moving Image / International Film Festival headquarters would be the old Royal High School and indeed that its combination with the currently dormant scheme for a National Museum of Photography would be the dream package that could find the finance to secure the future of this critically important historic building. Neither function, after all, requires the introduction of large areas of window – unlike the City Council's preferred art hotel use that demands acres of new glazing so that guests can have a full frontal view of Salisbury Crags and Arthur's Seat. And, perhaps unsurprisingly, that seems to be what is proposed by the council's chosen developer/architect team of Duddingston House Properties and Gareth Hoskins Architects for the word is out that two glass additions on either side of the A-listed building plus a major extension to its rear that will contain the bulk of the 150 rooms apparently necessary to turn the scheme into a viable proposition.
Odd messages are coming out of the City Chambers however – on the one hand senior sources within the administration are being quoted as saying the project stands: "little chance" of securing planning permission whilst, on the other, SNP councillor Tom Buchanan, the coalition administration's economic development leader, puts the Council's cards on the table: "this building is costing more than £250k in repairs and maintenance. I am confident the proposals brought forward will be sympathetic." Which only leaves one question, Tom: do you mean sympathetic to the council's financial plight, or sympathetic to the building's outstanding architecture?
I've highlighted in Wrap's passim that the Council had only one thought in mind for this building and that was a boutique hotel, so it would be unfair to grind an axe with either Bruce Hare of Duddingston House Properties or Gareth Hoskins in trying to deliver this solution, but you have to suspect that the Council's desperation to offload the building continues to take huge precedence over its World Heritage Site responsibilities.
Whether opposition to this scheme from Edinburgh's great-and-good will emerge as it did to trounce Richard Murphy's plans for Haymarket Heights remains to be seen, but if so the city's planning department will really need to put up a much more credible show this time if the idea of a High School Hotel is to develop legs.
Will Mr L.Kaieedah please join the queue
Of course, had the idea of the Old Royal High School becoming the centrepiece of a Scottish Parliament complex on the very defendable Regents Road not been irrevocably trashed by Donald Dewar, the building would not now be suffering the depredations of Edinburgh's culturally-bereft administration. And nor would we need endless excessive security add-ons to the Miralles' doocot down the hill. Not content with massively narrowing the pedestrian thoroughfare at the bottom end of the capital's Royal Mile with ugly, oversized steel bollards, the Scottish Parliament's Corporate Body (SPCB) now plans – as mentioned a while back in the Wrap - to further impede the determined terrorist with the creation of a new security hut at which these doughty characters will no doubt patiently queue in order to enter the Parliament building. At a minimum cost of £5m, the said project has been the subject of an OJEU notice so anyone able to master the PQQ can have their own go at producing what must surely be a mandatory model of leaves and twigs.
A shocked Benedetta Tagliabue has made clear that she considers this latest attempt to emasculate the vision of her late husband to be such an outrage that she intends to put her own name in the ring for the project. Indeed, Benedetta feels her practice should have been automatically given the commission to ensure design continuity and who's to say she's wrong – EU procurement rules didn't matter a jot first time round, so why should she have to go through the process this time? Mumblings beginning to emerge from within the doocot though that maybe the project isn't quite so necessary in these financially straitened days and that at a time when the building's hugely-inflated staffing complement is likely to face severe cuts, it might not be so politic to be fronting up shedloads of readies to satisfy the whims of an over-blown security industry. True, a previous incarnation of the SPCB had no problem spending other people's money on the completion of their Petit Versailles, but that was then and this is now and public reaction may well be less supine this time round. After all, what we're really talking about here is effective management of schoolkids and tourist visitors, not some wild-eyed Jihadists in Jimmy hats whirling Dervish-like in front of the building's public entrance, As the Wrap has pointed out before, the House of Windsor's summer palace across the street manages to make do with a couple of bobbies when the Queen is in residence for her garden parties and if you were al Qaeda's man in a kilt, who would you want to take out – the Head of State or Frank McAveetie?
From here to etramnity
There really is a God. What other interpretation can be put on the news that plans for the Pope to travel the length of Edinburgh's Royal Mile during his brief visit to Scotland in September have been cancelled after the police raised concerns. I accept that the boys in blue won't want him lingering in the tacky tourist shops or – worse – continuing his journey in a newly-purchased Jimmy hat, but please don't for a minute think the Wrap is in any way anti-pontiff on this one. Mercy me, no – Benedict XVI is actually doing us all a favour so enormous that it may in time be considered a bona fide act of God. I'm talking about the alternative route being proposed for the clunkily named 'Popemobile' that will take him away from his meeting with the Queen at the Palace of Holyroodhouse. The new plan for the 83-year old's motorcade is to point it up Abbeyhill, turn it along Regents Road so he can see what the old Royal High School looks like before it gets the trendy art hotel treatment and then down Waterloo Place before – wait for it – travelling along Princes Street.
Now for anyone who lives in Edinburgh or who has seen the wanton destruction wreaked upon this famous thoroughfare by endless years of tramworks, this is the miracle we have all been waiting for. Forget contractor disputes; forget the inept squandering of the £525m budget; forget the drastic reduction of the proposed tramline to something resembling the length of a knitting needle – no the miracle is that the roadworks along the length of Princes Street might finally be close to a conclusion. Let's face it, can there really be any danger of the Popemobile's tyres being allowed to hit anything other than perfectly-finished tarmac? It could be the nearest thing to urban heaven that any of us have ever known: the downside however is that to return what currently looks like the highway to Hiroshima to something that even vaguely resembles a real city street will be a mammoth task that can now only be carried out 24/7 throughout the International Festival season. If you haven't booked a summer holiday yet, August might be a very good time to put some distance between yourself and Auld Reekie for this is one Fringe performance you'll really want to avoid.
And finally…
It's not often that individual firms of architects manage to get any press coverage in our national broadsheets, but RMJM manage it on a regular basis via the business pages. This week though, the story was one of sliding pre-tax profits – down from £7.9.m in 2008 to £5.7m in 2009 according to the company's latest accounts. To be fair, turnover was actually up by 22% from £99.9m to £121.8m over the same period and the group's order book apparently now stands at £85m and rising. Long-time readers will recall the Wrap recording the company's shedding of 60 jobs in its Edinburgh and Glasgow offices at the height of the recession, but it seems the natural order of things is now being restored with staff numbers in its global office network rising slightly from 1125 to 1168 and payroll costs from £43.1m to £55.7m.
All well and good you might say and not wholly interesting until you read the directors' report to the accounts which included the pithy "ill-conceived short-term practices in relation to pricing" in the markets it operates in led, it seems, to the most difficult commercial conditions ever seen by the business. Indeed, the company's bank borrowings rose from £11.3m to 18.4m "to provide extra headroom to cope with the global economic downturn."
That'll be the same global economic downturn initiated by the late and unlamented banking 'masters of the universe', foremost amongst whom would be Sir Fred Goodwin, RMJM's 'special adviser and business developer' then? The former RBS chief's contact book clearly still opens doors though: name me another architectural practice in these benighted times that has access to a bank manager accommodating enough to allow it an extra £7m in borrowings. The best bit of the press report on all this though was the accompanying illustration of RMJM's capital gate project in Abu Dhabi, the wobbly-looking construct selected presumably as a suitable allegory for the accounts. Never let it be said that the pages of the Scotsman lack humour.
Back to July 2010