Wilson's Weekly Wrap
Double club card points for spotting Nessie
Send to friend
* Required fields
|
Send to friend
June 29 2010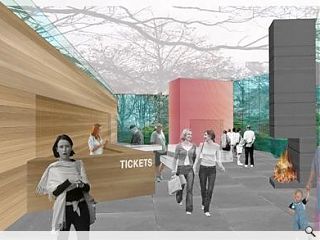 Way back in March I wrote about competing visitor centre projects on the banks of Loch Ness and questioned whether the promoter of an architectural competition for one of them was abusing members of the profession since the company didn't actually own the land it was proposing to build upon. This observation elicited a sharp riposte to the Wrap from said promoter, one Rod Michie of Jacobite Cruises, who insisted he owned the land and the access to it that his project was predicated upon, and I quietly noted at the time that in doing so he had carefully avoided any comment on the other important fact I had mentioned, viz. that there was already a planning application in process for a new visitor centre and harbour slap bang next to his intended site.
It's taken a wee while for the all-too-predictable stushie to hit the national press, but it has all the hallmarks of a traditional Hielan' falling out. On the one hand we have the Bremner family who own the Loch Ness Exhibition centre in Drumnadrochit and who plan to spend some £2m upgrading a harbour at the Clansman Hotel on the A82. The family's proposals include a coach and car park, toilets, picnic area, café, shop, jetties and moorings for private boats and canoes. And this is where it gets complicated – the facilities as they exist are currently leased to Jacobite Cruises and Mr Michie's company carries around 100,000 Nessie seekers each year. Indeed, so successful have these Jacobites become that they have it seems outgrown the site and, as a consequence, mounted the architectural competition I previously commented upon. This scheme envisages a new harbour, car park, visitor centre and café at a cost of approx £2.3m - and only a few hundred metres from the Bremner family's project.
Naturally this extraordinary flurry of development activity has led to questions amongst the Drumnadrochit cognoscenti, not the least being the impact of possible extra traffic on the notorious A82. And so it is that another option has reared its head from the waters of Loch Ness – Donald Skinner, who runs the Loch Ness Lodge Hotel and Monster Exhibition centre in Drumnadrochit (no, this is not the same thing as the Bremner's Loch Ness Exhibition Centre in the same tiny tourist magnet), thinks the project could destroy the integrity of the area. "I would suggest that any further development on yet another vast scale on the side of Loch Ness will eventually lead to a complete money and numbers game, comparable to a visit to Tesco or a Disneyworld where reality and politeness are exchanged for a clanging of cash machines." Mr Skinner's third option is to build two locks on the River Enrick so that Loch Ness can be brought directly into the small hamlet, thereby allowing Drumnadrochit's 813 strong population "to share in this project."
All of this of course neglects any mention of nearby Urquhart Castle, the Historic Scotland managed property that only a few years ago had a state-of-the-art visitor centre built at the entrance to its site. Quite where Highland Council's planners sit on all of this remains to be seen. Community and business groups discussed the plans last week and a final decision is expected at the Planning Committee meeting scheduled for 3 August. Could this finally be the moment and the place for Nessie to put in an appearance? After all, it's her reputation that's at stake here and she really ought to get a cut of any action generated by either of the three amigos mentioned above.
We're on the road to nowhere
If ever anything was designed to divide opinion amongst a city's population it has to Edinburgh's proposed tram system. I use that last word advisedly mind you, because if anyone can see rhyme or reason in the way this project has stumbled from crisis to crisis over the past few weeks they must surely have been educated at Mystic Meg's school of prescience. In truth, it's been more like watching a punch-drunk boxer taking to the ring for a final career fling, except that in such cases there is at least the prospect of gaining a few bob for the pummelling received. Not so Edinburgh, for the only things here as fuzzy as our boxer's eyesight are the financial picture being presented and the likely final extent of the tram line. Both, it has to be said are showing distinct signs of being laid low yet again by predictable but nevertheless sucker punches.
First up we had the city's transport leader, Gordon Mackenzie, once again taking sides with the Council's wholly-owned and hapless operating company TIE and threatening to sack the German contractor it blames for the delays and cost rises to date. I've mentioned before that whilst the contractor, Bilfinger + Berger is contractually prevented from saying anything, the Council and TIE have not been slow to emphasise the company's German-ness and by implication its nasty foreign tendency to want to stick to the terms of its contract. Unfortunately for Gordon, four of the six disputes that have gone to arbitration to date have ended in the contractor's favour, which is maybe why he and his Council colleagues now think it might be a bit less embarrassing if they just got rid of the Gerries altogether.
Except that they can't, the other contracting party being a consortium and all, with big league players like Siemens and Spanish tram builders CAF standing strong alongside B+B and taking an equally dim view of the patent ineptitude of TIE that has led to literally hundreds of design changes to what was once intended to be an 11.5 mile, 23-stop line from the airport to Newhaven. B+B, perhaps unwisely, but very properly, has regularly pointed out that these changes add £100m to the bill and extend the final completion date by at least two years.
Net result? Work east of Haymarket has all but ceased and earlier this month Gordy decided to throw his toys out of the his pram by declaring that if the consortium didn't show a willingness within two or three weeks of their commitment to resolve the impasse in a cost-effective way, he'd be recommending that TIE initiate breach of contract procedures. The consortium, it has to be said, seems quite unaware of any such breaches on its part and has quite happily looked down the barrel of Gordon's gun to see if he actually has any bullets in it. The answer? Not even blanks. Were the Council to terminate the contract, the subsequent legal action could take years and end with no tram at all and even larger bills, facts even Mr Mackenzie understands, albeit that he continues to bluster that "this city will not be held to ransom any longer by this contractor."
It's not hard to understand why Gordon has taken the line he has, because Richard Jeffrey, chief executive of TIE had already given him and his colleagues a pretty bleak assessment of things: instead of the 86% of the infrastructure that was due to have been completed by now, only a measly 18% has actually been delivered. Worse, getting to even this point has consumed some £350m - around two-thirds of the total budget – but our man Mackenzie still thinks he can fool all of the people all of the time by suggesting that things can be solved by adding a 10% contingency (£55m) to the total sum, without actually stating where this might come from. This of course is on top of the now not mentioned but long-gone contingency sum that was in the original budget.
And then there's the problem of developer contributions that I've mentioned before, for the council having failed to generate anything like the anticipated sums from what it had presumed to be a milch-cow, now finds that even the banker card - Forth Ports - it thought it had in this grouping is reneging on previous agreements. The Waterfront is likely to be home only to dead ducks for some years to come and the area's major landowner has slowed down on its plan to create nine "urban villages" and so has declined the opportunity to make an up-front payment of £29m towards the tram project and has instead offered £3.2m as the basis of a Section 75 agreement for the first two villages it hopes to eventually build. Once again, the Council's transport chiefs have shown scant understanding of development economics because not only are they insisting that Forth Ports come up with the full £29m at this stage, but also pay a further £34.8m towards "essential transport upgrades."
The council, you will understand is now quite desperate, so much so that it is rumoured to be considering selling off its previously profitable Lothian Buses, a company that is now facing the prospect of being fined significant sums by the EU for failing to meet its timetable commitments – delays it has to be said that have been mainly caused by the ever-changing tramworks throughout the city. No, you couldn't make it up, but wait – I haven't got to the best bits yet.
All of this has of course been the talk of every New Town dinner party and bus stop conversation, so much so that the SNP – who are coalition partners in the city's administration - made noises about the need for a referendum on whether or not to proceed any further with the project. On the back of this the Evening News and the Scotsman carried out a survey to find that 63% of those interviewed had never wanted the trams and that some 47% wanted the system scrapped immediately. The politicians of course were hardly likely to find it in themselves to countenance a referendum – they had been stuffed on one for congestion charges, after all – and pompously announced that such a prospect would cost several million pounds the city could not afford and, as Lib Dem (the coalition's majority partner) Phil Wheeler self righteously said "it would be criminal waste of public money to abort the scheme now. Gordon Mackenzie backed and filled this point of view by fabulously stating that "its in the best interests of the whole city that we get the best deal for taxpayers." Yeah, right – job well done, Gordon.
But the apotheosis of this latest tale has to be the idea that to save money the system might now have to be curtailed at one of four points, the most likely being York Place to the west of Princes Street. The significance of this might escape readers unfamiliar with Edinburgh, but the original point of the trams (we were told) was to connect the Waterfront and the many developments then emerging there with the centre of the city and the airport beyond. The original budget of £525m was to build two lines that would link the east and west ends of the Waterfront to town, but the north-south line to the west of the city has long since been deleted from the project and now there is the prospect of the eastern link between St Andrew's Square and Newhaven similarly disappearing. No wonder Forth Ports plc is stalling on its contributions: for the city to go from two lines to one line and now to only half a line - and to require hundreds of millions of pounds and several more years to achieve this miserable solution takes some doing. Presuming of course the city council can borrow the extra money in the current penurious climate – which, given that this notion is being postulated against future profits from the trams and buses until 2031, is more than a little difficult to be confident about. I've said before that we may well end up with a line that only travels the length of Princes Street and, on the evidence above, the odds on this Blackpool-like possibility being the final result seem to be shortening by the day.
Tall tales on the Waterfront
All is not what it might seem down Waterfront way anyway. Having seen its rather less than world class development plans for the area blown away by the economic downturn, the directors of Forth Ports have picked themselves up and come up with a couple of new options. The one that nobody but they want is a gigantic biomass plant on the Leith foreshore, but there is some logic to their proposition – at least from their point of view. As a port operator, shipping in container-loads of timber is a large part of the business they're already in so why not expand this on the back of government demands – and substantial grants – for more renewable forms of energy? As you might imagine, this is not a logic subscribed to by the denizens of the capital's north side - the homeowners of the wealthy Trinity banlieue for example – who don't want tall chimneys emitting in their direction or even impeding their line of view. It's difficult to see this proposal standing up for too much longer, but Forth Ports plc is nothing if not tenacious and so it probably has a way to run before these particular erections prove themselves dysfunctional under scrutiny.
The directors of Forth Ports like to think of themselves as big thinkers, however, and when they think big they generally think tall so just in case the flues on the Forth get bumped, they have a Plan B ready and waiting: a 26-storey luxury hotel with attendant shops, restaurants and 6000 seat indoor concert arena. As previously highlighted in the Wrap, Edinburgh's economic development team and planners are just beside themselves with delight when anyone mentions the possibility of a new hotel in town and so even when it's out of town they still get a wee bit dribbly. The usual suspects are being touted as possible operators – the Intercontinental Hotel Group (who missed out on a Richard Murphy tower at Haymarket), the Jumeirah Hotel Group (that runs the Burj al Arab in Dubai) and the Hyatt chain (which is invariably prefaced by the adjective 'luxury') – and a spokesman for Forth Ports described the plans as "an exciting and visionary development which will bring a wide range of benefits to Leith and the wider community." All very exciting if you're into tall storeys - just a pity you won't actually be able to get a tram to take you there.
No taxation without representation. Yeah, right
Civic squares in Scotland seem to be much more like buses than trams – you wait an absolute age for one and then proposals for two come along pretty much at the same time. Sir Ian Wood's plan to turn Aberdeen's Union Terrace Gardens into such a beast has of course now been re-badged as a garden in order that this rather more cuddly definition will help secure a modicum of public approbation for the scheme and its promoters, but the thorny question of the money needed for it may well prevent this ambition being realised. In the same week that chief executive Sue Bruce has prepared a report for this coming week's full meeting Aberdeen City Council that indicates the project may not be completed until May 2016 and that securing full planning permission for it is likely to take until December 2013 (presuming of course the much-vaunted international design competition produces a result Sir Ian can live with), the self-same burgermeisters who have reduced the Granite City to near bankruptcy have announced they will be consulting the public on how annual budget cuts of £30m+ might be made. Now correct me if I'm wrong, but this four-year penury plan for the city's residents amounts to some 120m smackers, a total not a million miles from the chimerical sum apparently needed to top up Sir Ian's yet-to-be-seen £50m financial contribution towards the realisation of his concrete carapace.
We already know that the big man's chums on ACSEF (Aberdeen City and Shire Economic Forum) see no problem with bludgeoning the City into finding humongous amounts of money to finance a project whose final cost will be much closer to half a billion than the £150m or so mentioned so far and we can pretty well presume that the Scottish Government - much as it might like to in advance of new elections to Holyrood - will consider the prospect of underwriting the project from the vastly depleted public purse to be a particularly hard sell to the many outwith this bandit territory who are already being affected by large scale funding cuts.
Which leaves the council taxpayers of Aberdeen - a city of 210,000 highly marginalised souls – to stump up the best part of £600m in total between them over the next few years. Of course, to a politician's way of thinking, that's only about £3k for every man, woman and child in town or, put another way, a bargain-like five hundred quid a skull annually between now and 2016. By which time many of local politicians voting to penalise their electors in this way in deference to Sir Ian's phantasmagoria will have long slipped their moorings and sailed off into the sunset leaving only a very dried up Denburn Valley in their wake.
A+DS = Architecture + Design Silence
After all that I know you'll be wondering what happened to the second scheme for a civic square that I mentioned at the beginning of the last piece. We have to shift down the road to the fair city of Perth for this one, and time travel back some 50 years to get any notion of the thinking behind it. At the centre of the action is the B-listed City Hall, a building from 1907 that might fairly be described as a landmark in a place that has, over the past half century, managed to build some of the most featureless architecture in Scotland. There had been an idea to turn the one-time concert hall into a shopping centre, but the economic downturn put paid to developer plans for that and as a result the place has lain empty and unused for the past five years and, to Perth and Kinross Council, an unnecessary expense in terms of unremunerated upkeep.
Now they're nothing if not canny on the Council and to forestall opposition to the building's demolition the city's SNP-Liberal coalition held a consultation over its future. The result of this was apparently completely persuasive: Councillor George Hayton, deputy leader of the administration, said: "the consultation over City Hall was a comprehensive, specially-created programme to find out what the public, businesses and market operators and event organisers want to see done with the building.…Consultants have also looked at all of the options and told us that a new civic space would bring significant benefits to the economy of the city centre by attracting more visitors to the city." He went on: "Potential options for the re-use or conversion of the City Hall do not have much public support and do not appear to be economically viable in the current financial climate. Re-use options would also require significant public subsidy which was not supported by the majority of respondents and are unlikely to be affordable."
And what did the "majority of respondents' amount to? Actually it was a narrow majority of 57% amongst 2738 people polled, or, more precisely, 1561 civically-minded souls. Perth & Kinross does of course have a total population of around 144,000 which makes the vote a rather more pathetic 2.17% in favour of demolition and even if we only include the city's resident population of around 44,000, we still don't manage more than 3.5% in favour – not exactly the overwhelming support for demolition the worthy councillor's would have us believe. And what do they want to replace the City hall with, given that they don't seem to have looked at anything other that a shopping outlet as an option? Why – and this to make the fair city "fit for the 21st century" – it's a new square designed to host "European-style Christmas markets, recitals and outdoor ice rinks" according to Councillor Alan Grant, also chair of the Coupar Angus Regeneration Trust. Even Perth Civic Trust it seems fell into line with this and "with great reluctance" backed demolition.
Only Historic Scotland and local resident and property developer, Vivian Linacre, now appear to stand in the way of the wrecker's ball, the latter seeming to have a markedly firmer idea of the city's urban history than the City Council does, as well as a view that manages to extend beyond the economic problems of the next five minutes. At a time when the regeneration of old buildings is high on the sustainability agenda, simply knocking them down because you have no ideas of your own can only be seen as a regressive 60s solution and not one that bears much scrutiny. Time please for A+DS to step in – if it's going to endlessly witter on about place-making it needs to stand up against the intellectual vapidity of our political classes when they front up degenerative projects like this and show real solutions.
So what about our friendliest, cuddliest quango sponsoring an ideas competition to find alternative uses for a perfectly useable and far from unattractive building? The Council thinks it can find £3m to deliver a new square (Edinburgh's invisible improvements to South Castle St a few years ago cost £2m + so its not hard to see that P&K's budget will be wholly inadequate to the task), so what can be done to this building to bring it back to life for the same sum? Equally, I doubt there would be much difficulty in finding a developer for the project if the Council was to make this level of subsidy available. Sadly, I suspect this small call to arms will generate the usual response from S+AD – place-saving impotence matched by a haunting silence.
And finally…
You can take a horse to water but you can't make it drink is an old aphorism that might best be applied to Sir Fred Goodwin, RMJM's recently acquired networking supremo. Freddie, the Paisley boy who in his previous employ dreamt up the idea of creating RBS Motorcity at Gogar on the outskirts of Edinburgh, has decided to move house, having had his car and the windows of his current home - in what is usually described as the capitals 'leafy' Grange area - damaged by outraged citizens who had seen the value of their RBS shares plummet. At the time, you might recall, Sir Fred ligged it to the south of France and holed up in the Morrison family's villa, a secure and rather palatial edifice as befits a wealthy construction dynasty. The experience obviously stuck in Freddie's mind, because he's now found himself a sprawling set of policies in another of Edinburgh's leafy suburbs, Colinton.
Now you might have thought that with his steroidally-enhanced pension pot Sir Fred could go out and simply build himself a custom – nay, architect - designed home of his dreams, but the banker sans pareil has eschewed the chance to commission his new employers to do just this and has instead purchased the former home of Graeme Souness. The ex-Rangers manager was of course a man of impeccable style and taste and so it is that Sir Fred and family will be able to stroll safely in the garden behind protective fences, gates and walls and admire their new Spanish-style hacienda. Saves going off altogether to hide out on the Costa del Crime I suppose, but it does seem to be a huge missed opportunity for Sir Fred and the boys in Bell's Brae to lead a resurgence in Scotland's architecture.
Back to June 2010