Massie unveils Oxford's Bonn Square
Send to friend
* Required fields
|
Send to friend
November 17 2009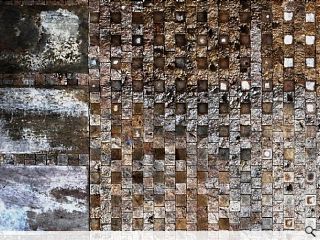 With the downturn continuing to bite architectural practices are increasingly spin the roulette wheel of competition bids in an attempt to stay busy. But even if your numbers come this is no guarantor of a hefty pay out.
Graeme Massie architects are no stranger to the perils of competition success having seen a succession of competition winners falter in the bound to tangible construction, notably an exhibition pavilion in Kolkata (a British Council run programme to source a Scottish pavilion to anchor the cities book fair).
One project which has been realised on the back of competition success however is the practices Bonn Square development in Oxford, winner of a 2005 RIBA design challenge.
Attempting to redress a minimal provision of public space within the city centre Massie has addressed failings of ownership, character and amenity on the once forlorn square to create a flexible events space.
Four components have driven this success, unifying sandstone paving, accommodation of the archaeological remains of a church and deconsecrated burial ground, a grove of Robinia Pseudoacacia trees and a smattering of bespoke bronze street furniture. Centrepiece of which are four 15m high lighting columns.
This materials selection is intended to wear the effects of time upon the square and wed it to its historic surrounds as bronze patinates, sandstone weathers and foliage varies in tune with the seasons.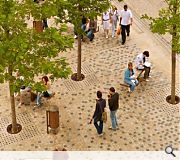 Trees soften the hard landscaping and provide seasonal flavour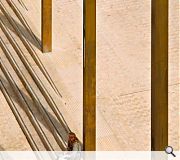 Variegated paving leads to an expressive surface
Back to November 2009