Artist Peter Root goes back to his roots
Send to friend
* Required fields
|
Send to friend
November 17 2009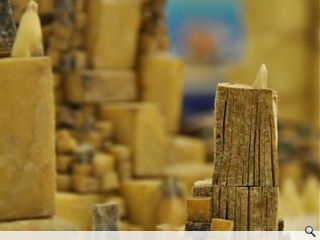 One artist has devised an innovative new sustainable building material for our cities… potatoes.
Less famine and more feast, the chips with everything approach adopted by Peter Root sees everyone's favourite spuds rise up from the dinner plate and reach for the skies.
Utilising the "starchy moisture" inherent to the root based vegetable as a type of glue to stick layers together the approach is pioneering a new form of tasty organic architecture.
This natural approach informs much of Routes work, guided as he is to build structures "without glues, tape or other forms of artificial connection."
Route freely admits that the digestible constructs: "sometimes go mouldy", potentially inhibiting real world use but that this: "adds an element of life to the work, meaning that the structures evolve, change shape and colour."
More info can be found here:
http://www.peterroot.com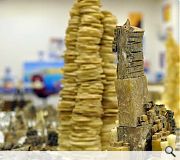 Mould is an ever present danger for potato town residents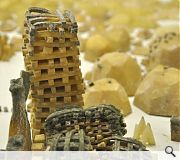 Would you like fries with that?
Back to November 2009