MIT proud of their Olympic cloud
Send to friend
* Required fields
|
Send to friend
November 11 2009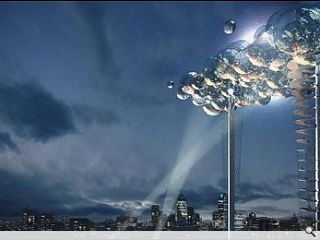 Plans for a "digital cloud" have been floated in London by an international collaboration of the Massachssetts Institute of Technology (MIT), Arup and artists .
Comprising two 400ft tall mesh towers interconnected by a series of plastic bubbles the outlandish structure would allow display of projected images and data whilst doubling as an observation deck and park.
Proving that the concept isn't in cloud cuckoo land the developers are highlighting a unique funding mechanism, which could see the hi tech sculpture raised through millions of micro donations.
Design of the cloud is flexible enough to respond to the level of donations reached, ranging from a £5m whiff to a £50m Cumulonimbus.
Originally short listed by London mayor Boris Johnson as a tourist attraction for the Olympic Park a decision has yet to be made on the winner. Although the team clearly hope their bid will be flying high with an early publicity push.
If chosen sponsor Google would supply information feeds on popular search terms. Other possibilities include weather data, race results and images of the Olympic torch.
The towers would be unique in their transparency, minimal material usage and large volumes enclosed by the spheres.
Back to November 2009