Gaudi's La Sagrada Familia sails through economic storm
Send to friend
* Required fields
|
Send to friend
November 9 2009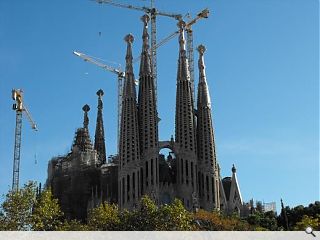 One of the world's most impressive construction projects is beating the Spanish property bust with work continuing apace to realise the singular vision of Antoni Gaudi at La Sagrada Familia.
The church is certainly no stranger to troubled times having witnessed the depression, civil and world wars in its extended gestation with work first starting in 1882. Fortuitously its funding streams are channeled direct from public donations protecting it to a degree from the vagaries of political will and market forces.
Nestling amidst the tight urban grid of Barcelona the striking organic form of the Catalonian architects great work in progress does not become apparent until standing at the foot of the other worldly conical towers.
Upon navigating a utilitarian office and security pen the full grandeur of the labour of love becomes apparent with extensive carved stonework depicting biblical scenes smothering every inch of available space.
It's not until ascending the full height of the cathedral that the full effect of ongoing work can be appreciated however with four huge tower cranes waltzing in tandem to a chorus of drills.
Sans safety helmet it is an invigorating departure from Health and Safety choked Britain.
Designing such a complex and unusual structure was no mean feat particularly for one man over a hundred years ago without the assistance of CAD and the ingenious methods employed to rigorously test the buildings stability are on proud display. This includes an elaborate system of strings and weights which invert the loads placed on structural supports by gravity, allowing engineers to test varying loading options for the structure.
It is the interior though which really captures the spirit, stained glass casts a dappled multi coloured glow on skeletal structural columns that resemble the belly of a giant beast, scuttling amongst the ribs are a team of craftsmen busily casting moulds for the ornate stonework which is gradually being applied.
Paying no cogniscance to the fleeting architectural styles that have come and gone the design of the church is as timeless as the construction effort itself. Fortunately those still holding their breath for the finished product won't have to hold for
too
much longer, the complex "could" complete sometime around 2033.
Back to November 2009