Haymarket fracas rumbles on
Send to friend
* Required fields
|
Send to friend
November 4 2009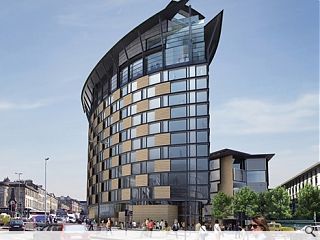 Lord McCluskey has waded into the aftermath of the fracas surrounding Richard Murphy's haymarket development, recently blocked by the Scottish Government over concerns the 17 storey tower would adversely impact upon Edinburgh's skyline.
The former judge and solicitor general had a pop at Murphy accusing the project of being more appropriate for the Gorbals district of Glasgow.
"Such people should remember with some humility that it was architects who destroyed George Square and St James's Square, building in their place the Appleton Tower and the egregious St James Centre. Edinburgh abounds with other examples of the professional tastelessness of so many of our professional architects," he said.
"The planning system was biased in favour of the developers. Their case, presented by expensive lawyers, was substantially financed by the taxpayer. Those who opposed the proposals had to raise money from their own pockets to enable the Cockburn Association to engage counsel."
"When we attended the public inquiry, the developers were given pride of place: we, the private objectors, were not even given tables to keep our papers on, until I protested. Even then, our rights to take part by cross-examination remained expressly limited. Despite the absence of a level playing-field, we demonstrated serious flaws in what was proposed."
Back to November 2009