Page\Park stage historic structures seminar
Send to friend
* Required fields
|
Send to friend
November 2 2009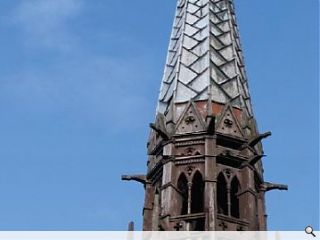 Page\Park architects together with structural engineers Jacobs and Scott Wilson have held a seminar to look at the challenges facing historic structures. In particular the event looked at how to extend the long term sustainable future of such structures through repair and/or adaptation.
Exploring the boundaries of what can be achieved through investigation, research and analysis Page\Park utilised their own experience with St Vincent Street church to illustrate how to distinguish original features from later amendments.
Elsewhere Kelvinside Hillhead Parish Church was the focus for much debate. Derived from St Chapelle in Paris a delicate roof structure sits atop slender piers incised by large window openings to provide a bright, airy and column free interior.
Storm damage to an ornamental freche had left trusses hanging perilously over the edge of a timber wallhead weakened by rot.
This required emergency propping measures to prevent further collapse and a careful analysis of the dynamics of the structure in order to devise a permanent repair solution.
These repairs should be complete before Christmas 2009.
Back to November 2009