Dunston Rocket demolition approved
Send to friend
* Required fields
|
Send to friend
November 2 2009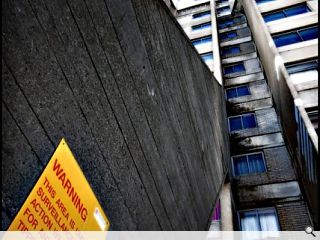 Plans by Gateshead Council to demolish the Dunston Rocket, a multi storey council block unlike any other, has been approved after a certificate for immunity from listing was granted by English Heritage.
This came about after moves were made to list the entire estate rather than to focus solely upon the landmark tower, despite their being no inherent value to the low rise maisonettes.
It is the fourth project of architect Owen Luder to meet the wreckers ball in the past few years following destruction of Bath's Southgate Centre, Portsmouth's Tricorn Centre and the (partial) demolition of Gateshead car park. This is currently on hold as Tesco reconsider their development plans.
Luder said: "This is another story of the Council having a policy to deliberately allow the deterioration of their building stock, decanting tenants so that those who remain are left with no option but to seek alternative accommodation. I'm agnostic towards demolition in general and believe cities evolve and change when there is no longer any sensible use for a building. But not when you have a lynch mob, the Council have no vision."
Many in the local community believe that the tower should be retained as a free standing feature within the estate to serve as a local landmark. Distinctive flying buttresses and a caisson foundation which determined the Dunston Rockets distinctive profile, ordered by Gateshead in the 1970's to be the tallest block on Tyneside.
It is argued that numerous failings of the tower are a consequence of a lack of maintenance and not inherent design flaws. A litany of problems afflicting residents included broken lifts, low water pressure and pigeon ingress to water tanks.
A recent audit commission report found that councils were "pressured" into providing brand new housing, often to the detriment of existing stock despite the economic, environmental and societal benefits of doing so.
It is expected the demolition process will take some 18 months to complete but in the meantime Urban Realm will be mounting a campaign to argue for the towers survival.
Image by Anja Lieder
Back to November 2009