Egyptian Halls- Is it to be another dagger blow for Glasgow?
|
Send to friend
October 2 2009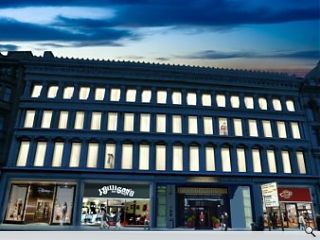 Derek Souter, director of Union Street Properties (USP), weary of an 11 year long struggle to breathe life into the crumbling Alexander "Greek" Thomson Egyptian Halls has declared: "If this final opportunity is not realised and if the floors can't be repaired, then the stairs go and the façade will need to be propped and perhaps eventually demolished due to combined cost and structural issues. This is a doomsday scenario for Union Street which is in dire need of Regeneration NOW."
Souter also fears that to then avoid potential structural collapse would also leave council taxpayers with a massive bill to prop the façade up, a process which could close off a section of street and impede traffic on what is a major city congestion point and cause further businesses to hemorrhage in Union Street . This would cost significantly in excess of what is needed now.
However with long running problems over ownership resolved after Glasgow City Council (GCC) served compulsory purchase orders on upper floor owners in 1995, Souter and his fellow investors (Duncan Souter and Kelvin Kerr) now enjoy 100% control and the flexibility to seek a partnership of the public and private sectors to revitalise the architectural landmark.
To achieve this it will be necessary for Historic Scotland, GCC and Scottish Enterprise to agree on a significant funding package, the remainder of the £12m costs sourced privately probably through a BPRA funding vehicle with Souter stating there could be "100% payback of grant funding within a decade" and that no money would be accepted until an end user was identified. Souter also reinforced USP/USI investment to date is £5M
Costs have soared on the A listed warehouse over this 20 year long prevarication and the building fabric continued to deteriorate. Said Souter "We've spent the last three years with GCC/Historic Scotland stating what would happen and it is now becoming reality at an accelerating pace, our plans, which would preserve the building's unique iron framework and add a three storey extension were first raised late 2006. "And now after another £350k of investment by USP it's now conceded by GCC "there's structural issues" with the floors, which literally skyrockets the costs and which we'd also identified late 2006".
Revised plans for the Halls designed by the Morrison Partnership/Addison Conservation, have been with GCC/HS for 8/9 months and should receive listed building consent from GCC/ HS for the Upper Floors to become offices or a more likely a 110-120 bedroom hotel with Retail/Restaurant/ Bars on the Ground Floor. The location lends itself to this form of mixed use and would at long last see what was once one of Glasgow's primary thoroughfares benefit from long overdue investment.
A spokesperson for Historic Scotland stated: "There is no current application before us for grants, we previously offered a grant to the owner but that fell through because the owner pulled the project, considering it no longer commercially viable".
But Souter clarifies: "The project was not pulled but the present scheme was now unviable both structurally and commercially, hence a new scheme was required," opining: "Over 11 years it's been nigh impossible to generate a cohesive public body approach and talk of fast tracking, which we sought way back in 2001 is at last potentially there but is still embryonic and needs collective agreement and activity, however an application for Historic Scotland is currently being prepared and is expected to be submitted in outline form later this week. Same is required of Scottish Enterprise via their Property Assistance Fund. If we can get all three bodies co-operating effectively there's a fighting chance for the Egyptian Halls. I've written to around 25 key people at GCC/HS/SE and the Scottish Executive to try to achieve this".
Is Souter optimistic? He states although one can always be derailed the impending Commonwealth Games does provide a bigger incentive commercially than the City of Culture way back in 1999.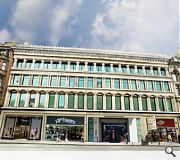 Back to October 2009