Wilson's Weekly Wrap: Can we do better? & Time to support architects, not addicts
July 15 2009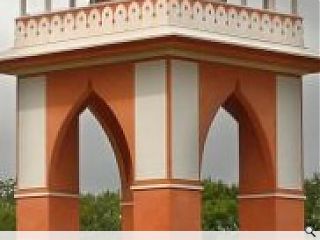 Can we do better?
Never one to let a dead dog lie when there's still an opportunity to scuff over its bones, on the back of the recent Wrap piece on Balfour Stewart House (the RMJM building the AJ refers to as a 'post-modern gem') - I availed myself of an invitation from Archial to visit said edifice and see for myself it's current condition and potential for some form of adaptive re-use.
You'll remember that Trevor Hemmings, the owner of the rights to Postman Pat, had proposed to have the building knocked down and replaced with a housing development, having concluded (after years of marketing effort) that RMJM's 'flawed masterpiece' was unsuited for modern commercial purposes. This of course elicited understandable defensive comments from the Bell's Brae practice, with one of its directors, Adrian Boot, going so far as to say that the move to demolish it was 'predictable' and a 'one dimensional response', statements he amplified with another to the effect that Ellersley House (its original name) was part of our Scottish architectural heritage.
This got me thinking about our contemporary architectural heritage, given that in many instances we seem to laud buildings in spite of their failings, the output of Gillespie Kidd & Coia being an obvious example as is - perhaps more controversially – our Parliament building. We even go so far as to seek listing for them from Historic Scotland and indeed the agency, having only previously commented inaccurately on its architectural style, is reputed to have made encouraging noises to the effect that it might go down this route in the case of Balfour Stewart House although it hasn't, it seems, actually ever sent anyone to look at the building in any detail.
But it is when you do so that you begin to wonder what all the fuss is about. Designed for an age when hierarchical headquarters buildings were de rigueur for our largest companies, its planning, structure, materials, construction and detailing certainly combined to deliver a period piece, but even for the time in which it was built we really do have to question the notion of its architectural supremacy. I doubt many architects have been round Balfour Stewart House in its naked, uninhabited form (I had only ever been there when it was occupied and therefore only able to access those parts I was invited into), but having now done so I have to say that this is not an especially good building and, in some parts, is downright wilful in its conception.
This is not to say that it couldn't or shouldn't be re-used before considering it for Rubble Club membership, but conventional uses and solutions are clearly incompatible with its layout and structural frame, the latter being both inflexible and un-adaptable. This is not a building that could be gutted internally to leave a shell to fill afresh, but perhaps some form of business incubator facility or laboratory workspaces would work if a suitable commercial package for these sorts of uses could be assembled. Failing this, however, it is difficult to see how it might ever again find a useful, viable function.
So back to its place in our architectural heritage – what is it about the building that we think is so remarkable that we should – as Adrian Boot has suggested – eschew financial reality and preserve it regardless of function? An odd mixture of vertical and horizontal forms, it's really only the building's glazed staircase towers that are visible from the main road into Edinburgh and which give the building its architectural distinction in the eyes of most commentators. Trouble is, inside these vertical elements, the physical support for the glazing is the most contrived, over-structured form of façade engineering I've seen in a very long time and you have to ask why we think the towers are so worthy of retention. I say this because the building really has no particularly remarkable internal spaces worth preserving and, in truth, Balfour Stewart House is simply not in the same league as other RMJM buildings of the period.
Which brings me back to Archial and its proposals to replace the building with a housing development. To my mind the controversy over whether Balfour Stewart House should be demolished or not will only be resolved if its replacement is of outstanding architectural quality. So, if no new use can be found for it, it's really up to the Archial crew (and goodness me, the combined group of architects is large enough) to come up with something that we can all buy into and agree that the site, sitting as it does on the western approach into Edinburgh, has found a design that resoundingly transcends the supposed architectural merits of its previous occupant.
Time to support architects, not addicts
You have to hand it to William Gronow-Davis, owner of the Rushmore Estate in Dorset, he's a man who puts his money where his mouth – or at least his mobile phone – is. Even after the meltdown in the world of finance, Bill still appears to have a few bob, because he's just spent a fair sum on what is reputed to be the largest folly to be built in Britain for at least a century. Having been born on the Indian sub-continent, Mr Gronow-Davis has had a 65 foot tall structure built in the style of a Mughal gateway and topped by five large copper domes. I have to say that architecturally it looks fairly convincing and not something easily dismissed as pastiche. All well and fine, therefore, except that I'm not sure if the structure can technically be referred to as a folly, the problem being that it actually has a function. The gateway, you see, has been built to conceal five mobile phone masts and, when O² pulled out of the project, Mr. G-D decided to go ahead and have it built at his own expense.
Which brings me to my point: clearly a whole new building type has emerged without me noticing, an omission I can only put down to the fact that I haven't spotted any obvious examples (yes, I know the masts are often hidden in church spires or planted on any council-owned structure from which some rental income can be extracted from the phone companies, but freestanding new-build architectural nuggets?). But what an opportunity – and one that can only have planners and politicians alike on side since who in their right mind would want to be seen to prefer a mobile phone techno-mast at the centre of their community when they could have a swanky, custom-designed archifolly instead?
Now, a building type with no obvious precedent would, in places such as Denmark and Norway, generate a series of design competitions to find exemplars for urban, suburban and rural situations. But then the architecture policy wonks in those countries have not yet had the red corpuscles removed from their arteries and have often been known to underwrite some genuinely imaginative thinking. Let's face it: it can't be too difficult to get the mobile phone companies to come on side on this one - they're paying rent anyway so why not use this money to amortise the capital cost of well-designed housings for their kit? It could be win-win all round, so it would be great if our own architecture policy people could give some focus to the delivery of a series of competitions in response to this unusual opportunity. Yes, I do appreciate this would be a far more effective way of utilising some of their limited funding than simply continuing to mainline most of their budget into the sclerotic veins of the Lighthouse, but you can always hope.
Can architecture centres raise their game
On which note we move south to the proposal by CABE (the Commission for Architecture and the Built Environment and the organisation that our own dear S+AD has nicked most of its few workable ideas from) to reduce its grant aid to England's 22 Architecture Centres. In these straitened times it can be of little surprise that budgets are being pruned, and equally unsurprising that the affected places are squealing at the diminution of their publicly funded subsidies. In truth, this moment was always going to come, the £1.86m CABE underwriting for the Architecture Centre Network a luxury that bore little scrutiny in terms of the actual performance - and usefulness - of some of these venues. CABE has now been charged by its government funding masters to find 3% savings over three years, so dispensing with the dispensable is a fairly easy choice to make.
Not that this has gone down well with recipients of its previous largesse: one Architecture Centre Network source being quoted as saying that "the cuts could have a devastating impact on outposts heavily reliant on the Commission's funding." The last part of this comment just about goes to the heart of the matter – for whatever reason, 'the Beam' in Wakefield (ok, I know you've not been there and didn't have it on your list of key places to visit before you die) was allocated £90k last year, but it wasn't alone in its utter anonymity and its capacity to soak up substantial amounts of public money to no great effect other than keeping a few locals from adding to the country's jobless statistics.
I'm sure you'll think I'm being hard-hearted here, but more than 20 years of examining the role of architecture centres here and abroad has convinced me that when their funding comes from predominantly public sources, their programmes are either hi-jacked to support quasi-government agendas (the Lighthouse being a good example) or they feel a compelling need to deliver a kind of happy-clappy view of architecture that is totally divorced from the realities of how we actually create and sustain our built environment. It doesn't actually matter whichever of these routes is taken, the result is the same: a kind of punter-friendly promotion of architecture at its most anaemic, predicated on the naïve notion that it is only a question of being able to distinguish between 'good' and 'bad' design, with real debate about how commercial, economic and political imperatives affect our cultural development entirely absent from the equation.
As regards the situation down south, the recent UK government 'light touch' review (they're all the fashion – see recent Wrap on similar review of S+AD) of CABE's aims and direction is instructive in that it suggests the Commission needs to develop a strategy "to more effectively influence design outcomes in all parts of England in response to the government's agenda for the devolution of decision-making." In Scotland, by contrast, we actually have (in principle) devolved decision-making, but as long as the constituent parties (S+AD, Lighthouse, Architecture Policy et al) are allowed to avoid having their actual contribution to the raising of design standards measured by any recognised empirical method, we will continue to find ourselves funding irrelevant touchy-feely stuff that has no impact whatsoever on the architectural quality of so much of the output of the wider construction industry in Scotland.
And finally…
At some stage in our lives we've probably all played with Lego and whilst some of us have grown out of it, there are still adults around who clearly get a bit of a kick from the brick. So much so that over the years there have been various events in which architects have turned their hands to the search for new ways to stack the black - and the red and blue and the yellow – in ever more accurate interpretations of well-known buildings. Prospect magazine also recently invited a few of its readers to demonstrate their flair for creative plastic invention and, amongst some remarkable entries, received one that had been deconstructed more effectively by the postal service than by any influence attributable to the Rem's and Zaha's of this world.
What I wasn't aware of, though, was 'the Brickish Association', a forum for adult fans of Lego whose members recently worked with the toy's Danish manufacturer on a project aimed at using the power of children's imaginations to re-interpret iconic structures across the UK. The term 'iconic' is a bit of a giveaway here, so you probably have some idea of what's coming. Yes, amongst some extraordinary models of Big Ben, the Blackpool Tower and the Angel of the North was a miniaturised version of the Scottish Parliament building that took Brickish member Alastair Disley around 100 hours to assemble. The kids at Edinburgh's Royal Mile Primary School are clearly no respecters of such devoted endeavour or indeed of modern architecture, however, because it took them a mere ninety seconds to demolish poor Adrian's work. And what did they build with the resultant pile of bricks? A model of Nessie – with not an upturned boat in sight.
So, the point of this story? There are things that are real that we know to be real; there are things that are real that we know to be unreal. There are unreal things that we know to be real and there are unreal things that we know to be unreal. Donald Rumsfeld might have said that. The kids at Royal Mile Primary School – being but a stone's throw from the Parliament– are more than familiar with their illustrious neighbour, but clearly when it comes to Scotland's mythological icons, they prefer their unreal to be properly unreal and understandably have plumped for the genuine article. I said that.
Back to July 2009