Gorgeous George?
May 22 2009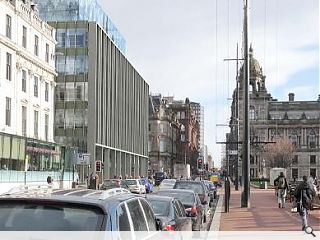 Redevco and Reiach & Hall have submitted plans to Glasgow City Council for demolition and redevelopment of George House on George Square, Glasgow.
Reiach and Hall's competition winner is a split level proposal combining a podium element conforming to the building datum around George Square prior to stepping up toward the College of Building and Printing in tower form. These portions are fused within a crystaline cloud element that sits over the lower roof working its way into a central atrium and expressed in elevation down to ground level, leaving a crystalline glass slot between lower and upper portions.
The George Street frontage is dressed in heavy limestone clad fin-like features which switch to slender anodised aluminium equivalents to the sides. A central atrium facing onto George Sq bridges three office blocks with a grand public arcade leading to roof gardens and restaurant/bar facilities in an elevated pavilion space.
Subject to the necessary approvals it is hoped to have George House demolished by 2011 with its replacement ready for occupation in July 2014.
Back to May 2009