1b is not to be
Send to friend
* Required fields
|
Send to friend
April 24 2009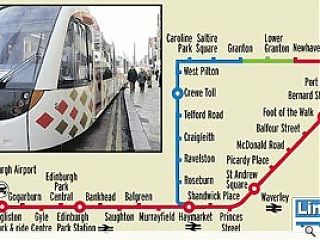 Edinburgh's on the rocks tram project has been beset by fresh mishap after city leaders officially shelved the line from Granton to Roseburn, catchily monickered "Line 1b".
The volte-face ensures that contractors will receive a £3.2m cheque in compensation for the late ditching.
Transport Initiatives Edinburgh had negotiated a fixed price contract for the work at £87m but this cash is needed to plug a hole in the finances of the Airport-Newhaven route.
It means that any future administration wishing to proceed with the route will be burdened by a bill at least twice as big as that which is currently on offer.
Back to April 2009