Mockintosh subway revamp being considered
Send to friend
* Required fields
|
Send to friend
April 16 2009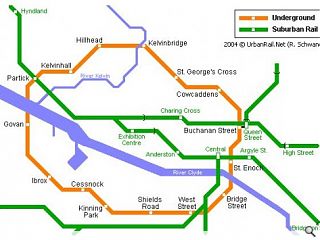 A Mockintosh style makeover is being considered by Council leader Stephen Purcell for Glasgow's decrepit subway system.
Tunnel decay, speed restrictions, out dated ticketing, peeling seventies decor and rough around the edges rolling stock has contributed to a sense of decline on the network over the years.
Now, with the 2014 Commonwealth Games fast approaching, subway bosses are keen to paper over the cracks with a £20m refurbishment drive, well in deficit of an estimated £100m requirement to drag the system up to scratch.
Unfortunately anything more ambitious is not financially tenable in the current climate.
Instead three key stations, Kelvinahall, Hillhead and Ibrox, along with Buchanan Street and St Enoch in a later phase, will be targeted for improvements to entrances, signage, circulation and platform finishes.
A name change may also be on the cards to better reflect topside geography, notably Shields Road which would transmogrify into Scotland Street and Kelvinhall, rebranded as Art Galleries.
Further phased work could take place with the sell off of redundant land around isolated stations at Shields Road, Bridge Street and Govan to private partners, leaving open the possibility for higher density development around key transport nodes.
Back to April 2009