Mareel made real
Send to friend
* Required fields
|
Send to friend
March 6 2009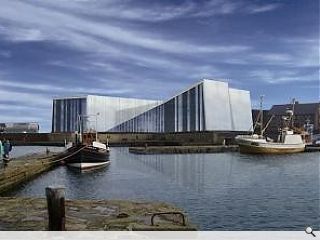 Mareel, the Lerwick based multimedia centre, will start on site within the next couple of months after Shetland Arts Council agreed a contract figure of £10m with local contractor DITT.
The dramatic geometric prisms have been designed by Gareth Hoskins Architects as a multi purpose cultural centre for island life, providing auditoriums for dance, song and film.
It is intended that Mareel provide a release for frustrated pent up creative energies and boost the islands cultural ambition with a dramatic wedge of statement architecture.
Back to March 2009