Wilson's Weekly Wrap: Who dares wins, Now make a list & eat your heart out IKEA
Send to friend
* Required fields
|
Send to friend
March 2 2009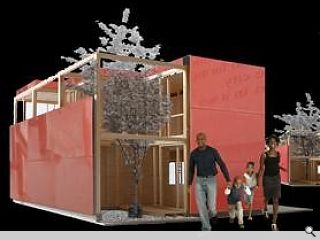 Who dares wins
It's maybe a sign of the times, but too many architects seem to have too much time on their hands. I'm referring to the letters page in this week's BD in which almost all of the correspondence related to the issue of protection of title/role and what ARB should or shouldn't be doing about it. Now I know I mentioned the ARB elections a couple of weeks ago and the obsession each of the candidates appeared to have with this self-same subject, but I confess to absolute bafflement that parts of the architectural profession are still flogging this dead horse.
For the uninitiated, architects in the UK can be divided between those who work in medium to large practices and those who make their living in offices of five people or less. By and large, it is the latter group who feel their businesses threatened by what they see as unqualified, uninsured low-lifes who advertise themselves as 'architectural consultants' or - worse - offer 'architectural services'. Sure these characters can, and will, offer to work for lower fees, but I don't see that the ARB is going to help much to protect registered architects from their predations.
Let's face it, the Architects Registration Act came into being in 1938 and if we haven't managed to get find a solution to this issue in the past 70 years, it's perhaps time to consider a different approach. The ARB, after all, has fairly substantial resources at its disposal and I can pretty much guarantee that a strong marketing campaign that promotes the benefits of employing an architect will win over the wider public long before a succession of small enforcement actions against recalcitrant plan drafters gets through the pathetically slow legal systems on either side of the border. And, in this current construction industry downturn, this is precisely the right time for the profession to pull together and get its message out there to the benefit of all.
Now make a list
And speaking of the ARB, you'd think in the midst of the election it's currently holding that it would keep a tight grip on things that might be, shall we say, red rags to a bull amongst the more scary-eyed characters on its register. But no, like so many institutions these days, it seems wildly adrift from its constituency. I'm referring to its advertisement in the Times last week for a 'Registration Manager' – a new post, apparently, to carry out the one thing that we all thought ARB was in business to do. Aside from the fact that the role commands a salary of £45k + benefit - a package many in the profession can only dream of at present - it requires no greater skills than to be 'IT literate' and have some 'experience of managing projects through from initial planning stage to completion': things most architects can do in their sleep.
You'll be unsurprised to know that the ad didn't appear in any of the profession's journals, but perhaps a little taken aback to discover that the future post-holder will command a team of seven and will report to the Deputy Registrar, who presumably reports to the Registrar himself. You see where I'm going here – 10 not especially skilled but very well paid people to manage a database of 30000 or so registered architects, a task that gets updated once a year when we all pay our annual fee, a mostly automated process apart from the deletion of a few deceased registrants and the addition of the previous year's output from the nation's architecture schools.
The ARB register ought to be the definitive list of architects in the UK – professional institutions, after all, only catalogue their own members details – but if you take away the protection of title nonsense which ARB in any case does very ineffectively, I think you'll agree that, at £2.6m, it's a pretty expensive directory of names and current addresses. Sad person that I am, I keep my own list of practising architects in Scotland which I update every few months, but for a tiny fraction of the ARB's costs I'm prepared to employ a skivvy to add another 26000 names and keep it reasonably up to date. I await the call.
Eat your heart out IKEA
One architect who's not letting the grass grow under his feet during these troubled times is Andrew Stoane. Many months ago I mentioned Andy's plans to tackle the country's shortage of affordable housing by developing a range of affordable kit homes. At the time he'd managed to get some support funding from the 'Edinburgh Pre-incubator Scheme' and the 'Edinburgh Technology Fund' to research and test the idea and he's clearly been plugging away at it ever since because he's now got planning permission to build a prototype at a site on Edinburgh University's King's Buildings campus.
The eventual aim of the project is to buy plots, obtain planning permission, lay foundations and buy the pre-fabricated houses from a construction company, with customers able to go to his 'Anabo' website to choose a location, order a house configured to their own requirements and arrange the finance in a matter of days. The house should then be available for occupation within 10 days.
Andy hopes the prototype, a 'Viola Anabo 80', will be completed by the Summer and thereafter open to public view as a showhouse displaying key Anabo features such as a solar roof and a recycled exhaust air heating and hot water system. And with two central belt sites being looked at as possible pilot schemes, there's every chance (presuming planning permission is granted) that the first Anabo houses will be available for purchase early next year. The total price is likely to be around £1000 per square metre with a 40 psm 'pod' costing £40k aimed at first time buyers and a 120psm family home available for £120k. Given the current state of the private sector house-building market in Scotland, this may seem ambitious, but given that it's only the affordable housing sector that's likely to see any movement in the next little while, it's good to see some intelligent research and development from the architectural sector challenging conventional notions of what new housing in Scotland should look like – and cost.
An undesirable streetcar
Which is a rather more positive story than the Edinburgh tram shenanigans that have so despoiled the capital's appearance and the quality of life of its residents. I won't dwell on this story this week – a more extended analysis will appear in the next Wrap, but suffice to say that in the current blame game over who's contractually responsible for what, the City Edinburgh Council's wholly owned company, TIE, seems determined to deflect attention from its own staggering inadequacies by ensuring that we all understand the nasty German contractors are at fault for practically everything that has happened in the whole history of the world.
What TIE is studiously not mentioning is the fact that the budget – far from being even close to the figure passed by the Scottish Parliament – has been blown completely out of the water by two things: first the complete absence now of any development on the Waterfront (the whole point of the trams) and the consequent disappearance of any developer contribution to the tram network cost; and the horrendous exchange rate between the pound and the euro that ensures all of the equipment (rolling stock etc) being bought from Europe will have a 25-35% uplift attached.
Given that the current Holyrood administration has stated firmly that no further money whatsoever will come from the national budget to bail the project out, it looks like Edinburgh Council Tax payers will be faced with substantially larger bills in the future. It hasn't quite reached 'the last helicopter out of Saigon' stage yet, but residents might be well advised to book a seat on the first tram out to Edinburgh's airport. If the line ever reaches that far, that is.
When you spot a bandwagon, you know you're too late
Away from Edinburgh, the fourth of Scotland's six cities seems to be getting very excited about plans to site a branch of the V&A on the banks of the silvery Tay. I can't actually remember whether or not it was the V&A or the National Gallery in London that used to market itself as a 'very nice café with some culture attached' but I suspect the good burghers of Dundee have something more elaborate in mind than just another tearoom.
Indeed, the rhetoric moved quickly and inevitably to comparisons with Bilbao and its Guggenheim tourist magnet, forgetting of course that those cities that have outposts of the famous New York Museum have paid its Foundation more than handsomely for the use of the name. This time it's a quasi-alliance made up of Dundee and Abertay Universities, Dundee City Council, Scottish Enterprise and the V&A that has commissioned a feasibility study from Conran & Partners and business planning consultant Whetstone. The result is a 67 page document that recommends an international competition for the design of a 'landmark building'.
Now I know the V&A is a museum, so you'd think that as an institution interested in history it might have realised that the whole concept of 'landmark buildings' is a bit passé now, and that the 'Guggenheim effect' hasn't actually worked anywhere other than Bilbao, a city that invested humongous amounts of money in a related upgrade of its entire public infrastructure and facilities. It's also a moot point whether such a thing can be built anywhere in the UK for the pitifully low sum of £42m. It's difficult to forget, after all, the immortal words of Kirsty Wark who, when asked at the Holyrood Inquiry about the project's original budget, responded with "everyone knows you don't get a garden shed these days for £40m".
Mark Jones, the V&A Director, ought to know better too – he was after all in charge of the National Museums of Scotland when it built a similar size extension onto its Chambers Street premises in Edinburgh just over ten years ago at a cost of £62m. Nor should he have forgotten that the V&A has gone unsuccessfully down this route before – Daniel Libeskind's 'Spiral' extension to the headquarters museum in London's Exhibition Road was cancelled five years ago as the institution couldn't raise the dosh for even a down-graded version of the £75m competition-winning scheme.
It has to be said that Mark is a very nice man but like so many other museum and gallery directors on seeing their retirement age approaching, he appears to have reached an advanced stage of legacy planning. SadIy, I don't see the money for this particular project being found before his departure date - especially in the financial bloodbath that will follow the completion of that other waterfront object, Zaha Hadid's Riverside Museum in Glasgow - and I wouldn't bank on a future V&A Director being fully committed to a cause so far north of the institution's home base.
And finally…
It had to happen and it didn't take nearly as long as I expected. I'm referring of course to Donald Trump's decision to rename the B-listed Victorian pile on his Menie estate as 'Macleod House', a relatively small matter that the Sunday Times contrived to turn into a half-page feature. I have to say that the ST got the story entirely wrong and any notion of the new name being in memory of his Lewis-born mother, Mary Macleod, needs to be dispelled before it enters the realms of popular myth.
Trump, of course, has proved to be an exemplary student of Scottish history and, clearly on recognising that the current 'Baron of Menie' - who bought the title in 1995 - lives in Surrey and nowhere near his 2000 acre Balmedie Estate, has moved quickly to establish a more appropriate, Aberdeen-related name for his Scottish gaff. What better then than to dedicate the building in memory of one of furry boot city's finest football managers and the one man who truly put Scottish football on the international map, that other prince of the comb-over, Ally MacLeod? Thank you Don, it means a lot to us.
Back to March 2009