A new dawn for Glenrothes?
January 29 2009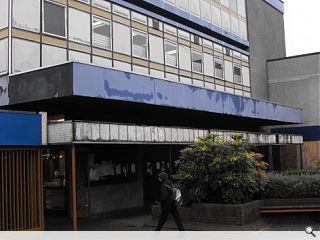 The Carbuncle Awards 2009 climaxed today under appropriately leaden skies in the Kingdom of Fife's newest town, Glenrothes.
The Fife New Town has long languished under the shadow of its bigger, badder west coast contemporary, Cumbernauld. But our judging panel found that Glenrothes suffers from many of the same problems.
The town centre suffers from many ill advised sixties planning decisions with pedestrian movement coming second to the motor car and an inward looking shopping centre that turns its back on what ought be a bustling civic heart.
Our panel felt that the optimism of early new town ideals had long since dissipated, accruing instead a series of piecemeal ad hoc additions.
A comprehensive search of Scotland's grimmest nooks and bleakest crannies had unearthed a fresh batch of unwitting underachievers in our annual search to identify Scotland's most dismal town. Making the short-list but falling at the final hurdle were Motherwell, Lanarkshire and New Cumnock, Ayrshire.
It is hoped today's award can act as a catalyst for change in the town by tapping into the enthusiasm of local action group, Glenrothes Futures and local newspaper, the Glenrothes Gazette. Prospect will be initiating a conference in the Spring to pave the way for a new masterplan for the town in partnership with these agencies.
Extensive local and national media coverage has already provided the project with a much needed shot in the arm, seen as a much needed fresh start for the town.
Coverage of the event can be read here,
http://news.bbc.co.uk/1/hi/scotland/7858861.stm
Back to January 2009