Porth Wen Brickworks, Anglesey
20 Dec 2004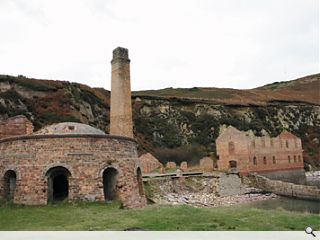 The Porth Wen Brickworks was the site of one of Ian Banks' student projects, but that's not the only reason he loves the derelict Anglesey structure.
It was a slight problem originally, justifying to myself the choice of derelict Victorian brickworks as my all-time favourite building in the region. Porth Wen Brickworks is, after all, only a piece of derelict industrial archaeology. It is built eclectically, without any known architectural pedigree, and is based out of the strict North West anyway – on the Welsh island of Anglesey. In the absence of any formal rules of engagement, I quickly formulated my reasoning (convincing myself at least) for taking valuable time off to spend a day photographing this neglected but well-loved old friend. Based close to the Wylfa nuclear power station on the island's rugged north coast, and adjacent to the island's excellent Mancunian-run vineyard (I kid you not!), the last time anyone even thought about celebrating architecture around here was when Glenys Kinnock half-heartedly tried to champion the combined talents of Parys Mountain copper mine and Amlwch port in the first series of BBC's Restoration. No surprise that this optimistically grand vision of a Welsh Eden Project sank without trace, but perhaps, to improve her chances, she should have also included the romantically picturesque Porth Wen, just along the coast.
Here between 1850 and 1914, silica ore was mined by hand from open cast pits on the now National Trust headland, to be transported down to the coast via a funicular railway – where it was chipped and processed down a series of staggered terraces and chutes, using gravity to move it along production stages. At the cliff bottom, bricks were moulded, dried and then fired in the three circular beehive kilns to be shipped off from the adjacent quay. The raw material used had such a high silica content that it produced hard bricks of great resistance to high temperature, and these were used both in the steel industry and in the construction of Liverpool docks. Rejects were simply recycled or used for internal building purposes, and of course many have now ended up in the sea, where over time they have been ground back to almost the original state from which they came. Today, it is easy to find on the adjoining beaches small wall sections with clearly defined brick and mortar outlines, eroded into beautifully textured boulders. Sitting almost imperceptibly amongst the natural slate and stone shingle on the beaches, these brick boulders have subtly changed the surrounding beach hue to complement the background buildings. One hundred years and the whole thing has nearly gone around full circle, as now most of the landmark structures (quay walls, terraces, chimneys, beehive kilns and quayside buildings) grimly hang in there, against the continued ravages of time, wind and tide.
Each visit begins with a nervous approach along a coastal walk, not knowing whether the jagged brickwork scars and severe subsidence have finally given way, and it picks up when a gradually emerging panorama reveals everything is still where it was last time (and also, hopefully, that no other visitors intrude on my pilgrimage). I don't think there is any one reason for this obsessive passion for the old ruin. Perhaps it is that I chose to site my architectural degree scheme here back in 1984, or that I seem to have made almost annual visits to it ever since. Maybe it is the gained and lasting appreciation, in the process of degree research, of J.M. Richard's theory of Functional Tradition meeting John Piper's gorgeously abstract paintings of Pleasing Decay, from post-war Architectural Reviews – I can't quite put my finger on it. Somehow, I think it is much more elemental than this, and is related to the bold yet simple beauty in its organic composition: the visual scars of time and nature on its rural-industrial face as well as just the immense history built into the very bricks and stones. Definitely favourite of all though are two key elements. One is a simply designed two-storey building, built right out onto the edges of two quayside walls – where, with a spring tide and a northerly wind, the swell continues to smash waves right over the fully windowed (though now glassless) façade. The other is a bold abutment of the main quay and harbour walls running smack into the most perfect naturally formed rock arch you could ever find. Both examples illustrate fundamental principles right out of Gordon Cullen's still relevant The Concise Townscape, what he termed avoiding "prissy suburbanism" through an "intrusion into the wilderness without vulgarity". What are the chances of ever building right "on the edge" in such natural or historic beauty spots today? I think we all know the answer to that one.
Ian Banks is a freelance architect and arts consultant and currently also acts on behalf of the Public Art & Architecture unit at Arts Council England NW. The unit is co-funded by stakeholder RIBA NW for 2004/05.
General information on Arts Council England and the NW public art and architecture stakeholder partnership can be viewed on www.artscouncil.org.uk and information portal www.publicartnorthwest.org.uk respectively.
Back to December 2004