Relearning Place: REdefine
Date: 8 Mar 2023 - 8 Mar 2023
Time: 18:00 - 19:30
Town/City: Civic House, 26 Civic Street Glasgow G4 9RH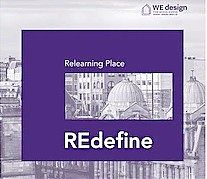 Come join us as we redefine Glasgow as a Feminist City to celebrate International Women's Day 2023. In October 2022, Glasgow City Council became the first UK city to back a proposal which will see Scotland's largest city make women central to all aspects of planning, public realm design, policy development and budgets.
We invite you to join our event, where we will be working with students from the Mackintosh School of Architecture to explore the principals and theories behind creating a feminist urban realm, and how these can impact and redefine the city today.
This Glass-House WEdesign event will be an active space where students, practitioners, policy-makers and citizens work together with The Glass-House, Missing in Architecture and students and tutors from the Mackintosh School of Architecture, to explore and co-design creative methods of engagement and collaborative placemaking that can help us redefine our places.
This is a free event, but places are limited. This event, in partnership with Mackintosh School of Architecture at Glasgow School of Art and Missing in Architecture, will take place in-person at Civic House in Glasgow.
Back to Diary