Entries open for 2022 Flemming Bligaard Award
Date: 10 Oct 2022 - 10 Oct 2022
Time: n/a
Town/City: Denmark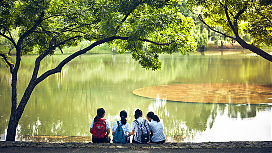 Early career researchers are invited to apply for the 2022 Flemming Bligaard Award, a EUR 65,000 prize which recognises ground-breaking research that helps to improve mental health in urban environments, and enables sustainable change for the benefit of people, nature, and society.
More than four billion people live in cities today, and by 2040 this is set to grow to nearly two-thirds of the world's population. For cities to be truly resilient, sustainable, and liveable, the mental wellbeing of residents is paramount - inhabitants who work productively, contribute to the community, and can cope with the stresses of life are central to the success of cities, alongside nature restoration and mitigating climate change.
Against this backdrop, the Ramboll Foundation has launched the 2022 Flemming Bligaard Award, a EUR 65,000 prize for ground-breaking research into "Mental wellbeing in cities" – one of the largest awards in this field. The award is open to early-careers researchers from a range of disciplines and backgrounds, who are conducting research that aims to help the complex mental health and wellbeing of city inhabitants – examining the relationship of city life and mental health, as well as identifying the factors that can help promote mental wellbeing in cities.
The intended research outcomes must have the potential to be replicable, scalable, and applicable in diverse urban environments. "Mental health is an often invisible and neglected aspect in developing cities and urban environments. It's critical we address this gap as global urban populations rise, so cities can develop in sustainable ways that meet the needs of people, nature, and communities," says Søren Staugaard Nielsen, Managing Director of the Ramboll Foundation.
"The Foundation is honoured to once again support the best and brightest research talent by way of the Flemming Bligaard Award."
Applications for the 2022 Flemming Bligaard Award close on 10 October 2022.
Back to Diary