3DReid Student Prize 2022 is open for entries
Date: 25 Jun 2022 - 25 Jun 2022
Time: n/a
Town/City: online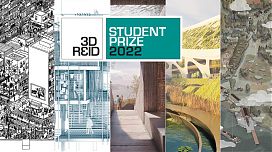 The largest independent prize for Part II architecture students, is open for entries with every school of architecture in the UK invited to nominate one student.
The prize has given students and architecture schools a platform to show their best work and engage with the industry, raising profiles and improving job prospects.
3DReid's judging criteria for the prize is:
Impact– does the project have meaning? does it address societal concerns such as environment, culture, community, wellbeing, inclusivity and marginalisation?
Innovation – does the project represent new ways of thinking? does it explore new technologies, materials, building methods, sense of place and environmental impact?
Communication – does it speak to the viewer? are the imagery and words well-conceived and have they embraced new ways of communicating their ideas?
Tutors are invited to submit a student to represent their university by the 25th June 2022. Should you wish to receive a nomination form or hear more details, please contact 3DReid's London studio through the 3DReid's website.
Back to Diary