COP-runs
Date: 18 Oct 2021 - 12 Nov 2021
Time: 07:00 or 10:00
Town/City: Glasgow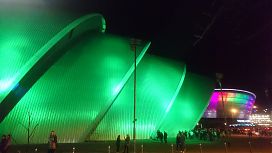 The UK will host the 26th UN Climate Change Conference of the Parties (COP26) in Glasgow in November 2021.
Join our knowledgable guides for breakfast running tours of beautiful, Glasgow showing how our city is changing to meet the ambitions of the conference.
This is an initiative by John Gilbert Architects, in partnership with Scottish Ecological Design Association and Glasgow Institute of Architects, your guides will be local architects, committed to making the world fairer and more sustainable.
Back to Diary