SEDA Solar Seminar #6: Solar & Storage for Scotland in the Energy Transition - Policy and Economics
Send to friend
* Required fields
Date: 11 Oct 2021 - 11 Oct 2021
Time: (Monday) 17:30-19:00
Town/City: Online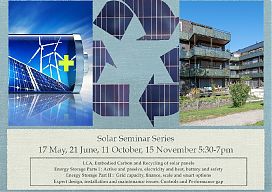 This session will explore grid integration of solar and renewable energy from a broader view of grid flexibility and capacity, how different battery models could support the grid, what the energy market with its supply and demands, energy policies and financial models will hold for us in the future, and potential changes necessary moving forwards.
Three short presentations will be followed by Q&A and discussions.
1. Energy storage and grid storage solutions in the transmission network by Dr. Brenda Park, Director and Chief Operating Officer at StorTera
2. Energy storage and demand side flexibility - business models and economics by Robin Adey-Johnson, Senior Analyst, Detla-EE
3. Smart solar at scale -challenges and solution to policy and regulatory barriers by Prof Jacopo Torriti, School of the Built Environment, University of Reading.
Back to Diary