International Seminar of Urban Form
Date: 29 Jun 2021 - 28 Feb 2021
Town/City: Online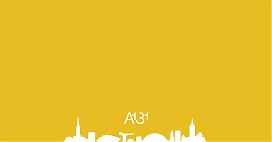 This year, the 28th International Seminar of Urban Form (ISUF2021) conference is being held in Glasgow (virtually) from 29 June 2021 – 03 July 2021, hosted by Strathclyde Architecture Department's Urban Design Studies Unit. The conference addresses the role of urban morphology in delivering sustainable and prosperous cities.
A131, a student-led architecture society, has been invited by ISUF 2021 to represent the personality of Glasgow, to showcase our wonderful city to those from all over the world who are no longer able to visit the city, due to the international event being online.
Urban cities are complex kaleidoscopes of humanity where we engage, socialise, produce, and consume; and whilst ISUF addresses this from a technical perspective, A131 is here as an example of a piece of that society which provides the backbone to and interacts with the urban form. As an architecture society in a city university campus we experience and study the city first hand, but Glasgow can be so much more than just the buildings it contains.
Glasgow is an atmosphere, a personality, and an ever changing force that leaves a lasting impression on people, however positive or not. It deserves to be showcased on the international scale from the peoples' perspective, so that's where you come in. You don't have to know anything about architecture or urban form.
We invite people from all backgrounds to submit an artwork before 11 June in response to the question 'How do you see Glasgow?', showcasing their opinion of Glasgow whether they have lived here their whole life, attended university, or have only spent two days in the city. We believe that Glasgow is an atmosphere, a personality and it deserves to be showcased on the international scale from the peoples' perspective.
You can be anyone that knows anything about Glasgow. Stepping away from the physical form of the city, A131 invites you to share your unique perspective of Glasgow, because people really do make glasgow.
Back to Diary