The Glasgow School of Art Graduate Showcase 2021
Date: 9 Jun 2021 - 20 Jun 2021
Time: all day
Town/City: online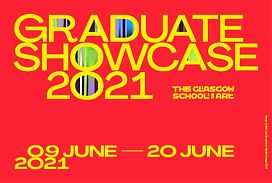 The Glasgow School of Art Graduate Showcase 2021 will launch on Wednesday 9 June.
The digital Showcase will feature work by graduating students from all undergraduate and 2-year postgraduate programmes across the Schools of Design, Fine Art and Simulation & Visualisation and Innovation School, and Stage 3, 4 and 5 students in The Mackintosh School of Architecture.
Graduates will be able to add new work to their profiles for 12 months, offering the opportunity to showcase their professional practice A programme of associated core and fringe events will run from 9 - 20 June.
Back to Diary