Ecosystems and Energy
Date: 15 Mar 2021 - 15 Mar 2021
Time: 4:00 pm 6:00 pm
Town/City: Online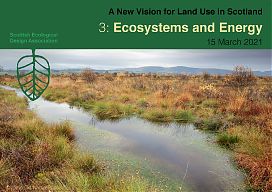 Promoting sustainable land use: the role of biodiversity, natural resources and renewable energy.
Ecosystems are sustained by stores and flows of energy, materials and living things. Stores include soil, vegetation, animal life, minerals and water bodies. Flows include solar energy, rainfall, erosion, wind and storms.
Human societies add to stores through wealth and infrastructure, and to flows through trade in raw materials and services. A well-regulated society ensures its stores and within-country flows are large enough to guard against external pressures like blockades and global crop failures.
Yet the current system is losing its store of biodiversity and relies heavily on imports of food, livestock feed, wood, fertiliser and energy. How can the balance be redressed? And is there a moral case to answer – should society destroy another country's ecosystem to spare its own? How can we ensure we start to restore our biodiversity while meeting our renewable energy needs?
The series is supported by The Pebble Trust, The Open University and Wildland Ltd.
Back to Diary