The Lie of the Land
Date: 1 Mar 2021 - 1 Mar 2021
Time: 3:30 pm 4:30 pm
Town/City: Online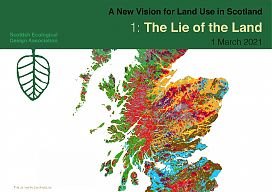 Where we are and how we got here.
The present balance of land use is the result of several thousand years of continuous change. The global migration of people and ideas; replacement of natural vegetation; rural depopulation and the growth of cities; past years of famine and hardship; the efficient pursuit of farming; the need for clean water and electrical power – all have shaped today's use of land.
But what will drive future land use in Scotland? Debate is active: rewilding; the balance of land ownership; future rural subsidy; managed repopulation; halting ecological decline; preparing for future climate; and how to combat food insecurity. Do we use the land to its full potential and how might things change for the better for most people?
Can we construct a map of Scotland that shows the best use of the land for the foreseeable future?
The series is supported by The Pebble Trust, The Open University and Wildland Ltd.
Back to Diary