SEDA Conference 2020
Date: 7 Sep 2020 - 10 Sep 2020
Time: Evening
Town/City: Online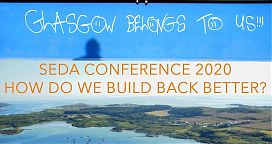 SEDA'S annual get together, like so much else, has been prevented from held physically as it has been for the last decades. We plan to make the most of this though, by coming up with with a programme of short events on-line instead, that we hope can draw more people then usually can attend, and get a wider group to discuss what SEDA could be doing at or AGM. Our programme is being spread over three evenings in early September and will try to consider one of those big questions we have been asking ourselves as we come slowly out of the pandemic lockdown into an economically uncertain and shaken up new situation: How could we 'build back better', what does that mean?
During the lockdown, SEDA co-hosted a series of events with Transition Edinburgh that looked at models that were already in development and could be adopted now in part or fully that aimed to try and reorganise how we plan our towns, land and society and what we aim for. These included Common Weal's 'Our Common Home' Green New Deal, and the Wellbeing Economy Alliance's 'Doughnut Economics' alternative model for economic health that could replace the focus on growth.
These generated a lot of debate on the day, and some are already being adopted in some ways by central and local government in Scotland. But what would a new plan for where we live look like now, if we have changed our priorities under lockdown? Shouldn't we be aiming to plan to avoid further catastrophes affecting us like this, so not just start taking climate change seriously, but also making where we live more supportive, valuing the people who keep us going more, and making our localities healthier and easier to get around?
We will hold two open evenings, for members and non-members, with low tickets prices, where this will be considered for our two main contexts:
Monday 07th September 6.00-7.45pm HOW DO WE BUILD OUR CITIES BACK BETTER? On Zoom, £4 non members, £2 SEDA Members and concessions With Graham Ross of AS:L Architects, Professor Ken Gibb of the University of Glasgow and Deborah Hay of the Joseph Rowntree Foundation
Tuesday 08th September 6.00-7.45pm HOW DO WE BUILD OUR RURAL AREAS BACK BETTER? On Zoom, £4 non members, £2 SEDA Members and concessions With Ailsa Raeburn of Community Land Scotland, and Magnus Davidson of the University of the Highlands and Islands.
Then there will be a SEDA Members only night (free entry) on: Thursday 10th September 6.00-8.00pm SEDA AGM, and Discussion to produce a SEDA headline of what we would want as priorities to BUILD BACK BETTER? Featuring Chris Morgan of John Gilbert Architects, previewing the next SEDA Guide to achieving Healthy Indoor Air Quality.
Find out more at each of these We hope you will come to more than one evening, so you can put your questions to our great speakers, and if a member, help us condense these ideas down into a Hitlist we can take to others to ask how they could be considered in future plans.
We also hope as many members as possible will join us to hear what SEDA is working on now, have a say in where we go next, and find out if there are ways you could help that happen.
Back to Diary