"The Heritage Dilemma" - Making and Breaking World Cities
Date: 16 Apr 2020 - 16 Apr 2020
Time: 1800
Town/City: St Andrew's and St George's West, 13 George Street, Edinburgh EH2 2PA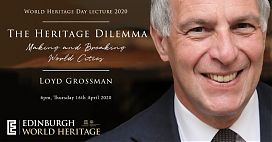 We are delighted that Loyd Grossman, internationally renowned heritage writer and broadcaster, will be delivering this year's World Heritage Day lecture.

Loyd will discuss the heritage dilemma faced by Edinburgh, where commercial and cultural businesses compete to flourish in a heritage rich environment, with little, if any, contribution to the ever-increasing cost of supporting it. Join us as we take a closer look at Edinburgh's own heritage dilemma.

About the speaker

Born in Boston in 1950, Loyd's lifelong interest in heritage has involved him in a number of key organisations: he is a former Commissioner of English Heritage, and is currently President of the Arts Society, Vice President of the Churches Conservation Trust, and a Fellow of the Society of Antiquaries of Scotland, among many other roles.

Loyd was involved in a wide range of broadcasting including Through the Keyhole, and his love of food led him to create his own brand in 1995, which became one of Britain's most successful new premium food brand.

In June 2015, Loyd was awarded a CBE for his services to heritage.

Tickets are available for £6 for members.


Duration: the lecture will run for around an hour, including Q&A, and will be followed by a members-only reception.

Back to Diary