Uncover the hidden value in your walls...
Date: 31 Mar 2020 - 31 Mar 2020
Time: 17:30-21:30
Town/City: Assembly Rooms, Edinburgh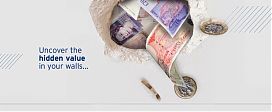 Kingspan Insulation would like to invite you to a seminar exploring the issues surrounding energy efficiency and financial savings in commercial and private domestic developments.

Kingspan Insulation will be discussing the impact of differing insulation specifications on the return on investment associated with internal floor area in commercial and private domestic real estate. The seminar will cover:

the different types of insulation materials available on the market;
the importance of thermal performance and the benefits of thinner insulation; and
details of an in-depth cost analysis by Currie & Brown that quantifies the real value of additional rentable floor space.

Guest Speakers

The seminars will include guest speakers from the following organisations:

John Palmer - Passivhaus Trust
Paul Ashford and Tobias Parker, Anthesis-Caleb: Importance of the Built Environment in the Battle Against Climate Change
Julian Venus, Aquarian Cladding: Traditional Brick Facades using Modern Methods of Construction
Adam Mactavish, Currie and Brown: Real Value of Space in Commercial and Private Domestic Real Estate: Technical Research
Jess Ralston and Scott Blance, Sustainable Energy Association: Decarbonising Non-Domestic Buildings: Wrap then Heat

Please note not all speakers will be attending all events.

Back to Diary