Save Egyptian Halls
Send to friend
* Required fields
Date: 21 Feb 2020 - 21 Feb 2029
Time: 13:30 = 18:00
Town/City: The Lighthouse, Glasgow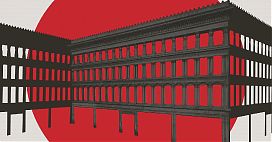 Heritage organisations from across Scotland are coming together in Glasgow to discuss Alexander 'Greek' Thomson's A-listed masterpiece, the Egyptian Halls. The warehouse on Union St has been vacant for forty years and there is no end in sight to the impasse which has blighted the building.
In December the building was shortlisted as one of Europe's 14 most at-risk cultural sites by the pan-European heritage body, Europa Nostra, and since that announcement there has been a renewed interest in restoring this internationally significant building. This included an online petition set up in the wake of the shortlisting which has garnered over 4000 signatures.
Now The Alexander Thomson Society is co-ordinating an event centred around the building, gathering together a field of experts to discuss its significance, condition and how it might be saved. Organisations represented include Historic Environment Scotland, Glasgow Building Preservation Trust and the Society for the Protection of Ancient Buildings. Sponsorship for the event comes from the Society, Glasgow City Heritage Trust and Glasgow Institute of Architects.
Tickets for the event, taking place at The Lighthouse, are available to the public at £10 each. Whilst key stakeholders, such as the city council and the building owners, will be offered tickets to attend and contribute to the discussion through question sessions
throughout the day. The event is intended to emphasise that Egyptian Halls is a building that must be saved, to examine the opportunities that could support this action, and to explore successful case studies of other historic buildings which have been saved. It is hoped that by bringing everyone together under one roof that productive discussions might be kickstarted that spur some positive change on the site.
Back to Diary