Mind Your Head
Date: 8 Oct 2019 - 10 Oct 2019
Town/City: NEC Birmingham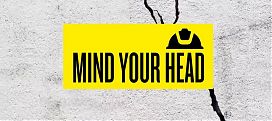 There have been 1,419 reported suicides in the construction industry over the past five years; 1,409 of those were men. Those men are more than just numbers. Each one has their own story of loss and devastation, affecting families, friends and colleagues for life. This issue can affect us all; something must change.
In response to these sobering statistics, Mind Your Head –– a national campaign designed to promote mental wellbeing to men working in the construction industry –– is on a mission to unite the construction industry behind their vision for overcoming the mounting challenges to mental wellbeing. Mind Your Head has been specifically designed by leading psychotherapist Dr. Gareth Palmer, founder of MenShouldTalk, to bring mental health issues to the surface. He said, "It aims to help men examine themselves so they can understand their own histories and build strategies for coping with their problems… without robust mental health and emotional resilience, we are like buildings resting on shaky ground."
Mind Your Head will launch with the Material Support exhibition at UK Construction Week 2019 – the UK's largest construction industry event. Designed to champion the importance of mental health in construction, the exhibition will showcase building materials as powerful works of mental health art, provide an immersive audio/visual experience to all visitors, and host keynote talks from leading speakers, including RIBA President Alan Jones, leadership coach Ric Moylan, and architect and author of Happy by Design Ben Channon. Each featured artwork, kindly donated by leading manufacturers, will be designed to carry a meaningful message related to mental wellbeing and raise awareness of the Mind Your Head campaign and its partners.
Back to Diary