#DesignPopUp Glasgow
Send to friend
* Required fields
Date: 12 Jun 2019 - 14 Jun 2019
Time: 10:00 - late
Town/City: The Briggait, 141 Bridgegate, Glasgow, G1 5HZ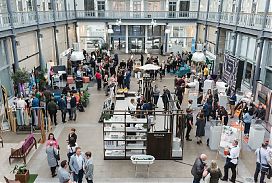 Attended by a who's who of architects, designers, specifiers, contractors and developers from the major UK practices, #DesignPopUp events have become synonymous with quality, innovation, creativity and opportunity.

Providing the perfect platform to showcase and launch your collections – #DesignPopUp events offer an alternative experience, allowing potential customers to touch, feel, sit-on, stand and experience your products first-hand – bringing your showroom to their doorstep.

#DesignPopUp events connect you and your brand to your customers.

These world-class events, held over 3-days, deliver an exciting, innovative platform for exhibitors to showcase their products in a relaxed, welcoming, and synergistic environment. In addition to our infamous "Parmesan and Prosecco" networking party, we celebrate the future of design with a rich program of workshops, product demonstrations, CPD events and seminars.

Back to Diary