Are we sitting comfortably?
Date: 25 Apr 2019 - 25 Apr 2019
Time: 17:30-19:00
Town/City: RIAS, 15 Rutland Square Edinburgh EH1 2BE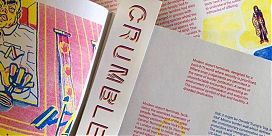 What makes us comfortable (or uncomfortable)? What can the architect do to create comfort in the world around us? Is the profession guilty of sitting too comfortably?
Join Crumble at the RIAS Bookshop for an evening of discussion. We will be providing an introduction to the magazine and sharing some conclusions from our upcoming issue which launches in May 2019. The new magazine investigates a range of different perspectives on the notion of comfort, and how we feel about the environments in which we live. Come along to learn more about Crumble and find out what we think!
Back to Diary