Porcelanosa Cambridge Opening
Send to friend
* Required fields
Date: 28 Mar 2019 - 28 Mar 2019
Time: 18:00
Town/City: The Beehive Centre, Unit 11, Coldhams Ln, Cambridge, CB1 3ET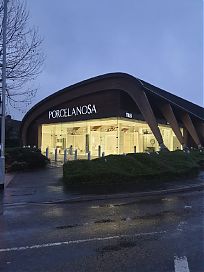 Porcelanosa Group has opened a new Cambridge showroom in the iconic Multiyork building at the Beehive Centre this month. This is a relocation from their old Peterborough showroom.
The new store will focus on the lifestyle aspect of Porcelanosa Group, with a varied range of kitchen displays that highlight the possibilities of Porcelanosa in your home.

As well as kitchens, the new showroom will home examples of Porcelanosa's large format tiling both for walls and floors, displaying ranges from HighKer and XLIGHT. The large HighKer format ceramic shows an urban side through the Bottega Collection. Inspired
by cement, this rectified porcelain tile achieves a visual sensation of continuity, thanks to large sized pieces. While XLIGHT is softer and can be used to plan fully integrated rooms creating "invisible" doors and cupboards with one sole hygienic material that is unchanging and highly resistant.
Please RSVP to porcelanosa.events@porcelanosa.co.uk
Back to Diary