Plook on the Plinth Award
Nominations for the most dismal town in Scotland
Aberdeen (Aberdeen)
The only place in the country where you can walk from one side of a city centre to the other without ever needing to leave a shopping arcade. It's unsurprising that 10% of the shops on Union Street have closed down when business rates are too high for independent stores and the buildings are caked in a thick layer of car exhaust grime. Aberdeen has uninviting streets with grid-locked roads, a neglected city square and no museums save one pathetic attempt to sing the praises of the oil industry. Rather than spend the city's wealth on sorting out this list of monstrosities, the council instead see fit to approve unnecessary extensions to two already massive shopping centres and build yet more generic office blocks in unsuitable locations. Nominated by G. Hays
Airdrie (North Lanarkshire)
Reason for nomination: Airdrie has Bland uninspiring architecture with no change or attempt to change. the shuters of the empty shops help give the town a feeling of hopeless, on one street in particular most shops lay vacant and dilapidated slowly falling into a state of disrepair. The main steet has little vacancys but the bland and colourless architecture in the Main Street helps remind you of how dull a place airdrie is. When you look around Airderie you can see many examples of dated architecture one being the horrid 60s architecture of the court house. I could go on all day about the drab dullness of airdrie but I don't know where to stop.
Bridge Street (Inverness)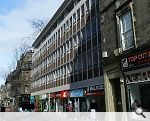 Reason for nomination: Big grey lumps. The ugliest buildings in Scotland Nominated by: Old Invernessian
Culbokie (Highlands)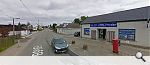 This is the most dismal village in Scotland. It was first nominated in 2013 and hasn't learnt it's lesson. It is worthy contender of the Plook of the Plinth award. It is essentially a ribbon development of a mismatch of houses with argricultural land separating the east from the west end. It has attracted vocal incomers, who want to interfere, much to the consternation of the natives. An example of this is the community land that was purchased near the Post Office and has hosted a lop sided Christmas Tree ever since. They even held a carol service with a vile tasting punch under the branches last year. Anyway, in essence it is a blot on the landscape. An example of how the planning department got it wrong. There is unused building land, now used as a dogs toilet along with a similarly filthy forest walk. The highlight of the month is the Community Market. Says it all really, where the razor blades?
Nominated by: John Brown
Elgin (Scotland)

Lackluster town, needs an encouraging kick in the backside to get revamping. Nominated by: Cara Morrice
Grangemouth (Falkirk)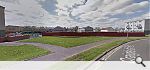 Just look at the Place a dier grey shithole with no attraction at pollution levels to rival central London. Go to skye for a couple days then come back and take a deep breath. Trust me you'll feel like you have developed lung cancer. Nominated by: Kieren S
Greenock (Inverclyde)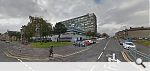 CARBUNCLES SUBMISSION Carbuncle Name: greenock Carbuncle Location: greenock Award Category: Plook on the Plinth (most dismal town) Bombed by the luftwaffe in 1941, this inspired the town council to finish the job, any old building in the town that is left is in danger from these cretins. Nominated by: b johnston
Back to The Carbuncle Awards