Conversion and interior design of Pollokshields Villa
This commission was won from a design competition to convert a large property into a single family home. The property was built as a family home in 1903, designed in a Scots baronial style by the Glasgow architectural firm of Burnett Boston and Carruthers. It occupies a prominent position in Pollokshields on the south side of Glasgow and is built of rock-faced red ashlar. During the early 1990s, the house was split into three separate properties.

The brief was to convert the house back into one dwelling so that, where possible, rooms were converted back to their original functions. A productive relationship was developed with the Heritage section of the Planning department. This allowed for a studied and sober investigation into which architectural elements were extraneous and which should remain to ensure the building's integrity. The removal of later architectural additions helped enormously in opening up the building allowing for a more obvious circulation.

Although many of the original features and room functions have been re-introduced, the house has to function as a modern family home and to that end, a number of discreet interventions have been made:-

• A double doorway was introduced between the kitchen and dining room which then linked through to the lounge.
• The basement was lowered, creating space for plant, a laundry, a sauna, and a gym.
• Some service areas were opened up to create more meaningful spaces.
• A vertical link was created between the gym and the children's playroom above by stopping the floor short of the perimeter walls.

The objective of the interior design exercise was to create rooms of different characters which would be able to exhibit a combination of bespoke and collected furniture.
PROJECT: Conversion and interior design of Pollokshields Villa
LOCATION: Pollokshields, Glasgow
CLIENT: Private
ARCHITECT: Miller Partnership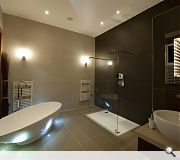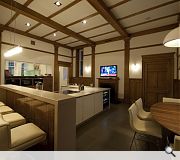 Back to Housing